Let's be honest — we all are dealing with this kind of situation for the first time and in such magnitude. 
The global pandemic cases have crossed a million. Daily life has been affected, businesses have been disrupted — from local coffee shops and restaurants to the hospitality industry, retail to travel and even the technology sector.
COVID 19 is a black swan event. There is no doubt in it. It has derailed the plans, delayed launches, halted hiring and operations and put a hiatus on business.
But fortunately, if your business is software dependent, you can still keep it afloat by outsourcing the development.
In fact, if you have been brushing outsourcing under the rugs, this is the best time to rethink, adjust and implement outsourcing strategy for your business.
So here's a guide on how to outsource — rent a coder or a team of developers to ensure smooth project development without any interruption.  In this article, we'll discuss the step by step process for effective software outsourcing and its key benefits.
How to Rent a Coder or Development Team – The Process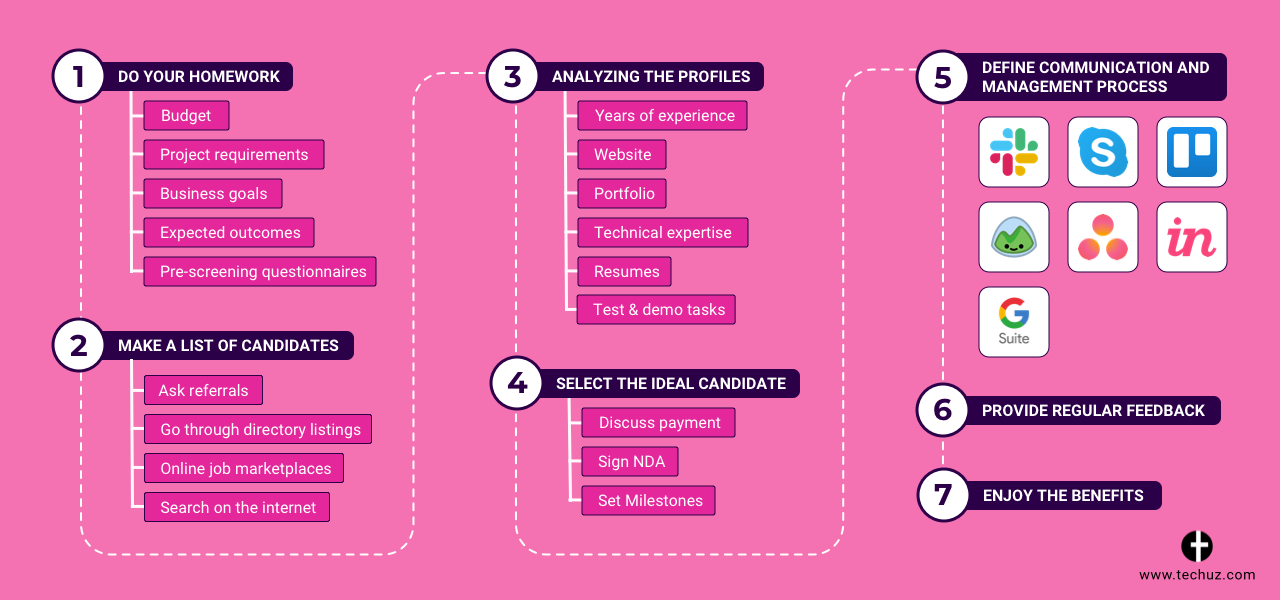 1. Do Your Homework 
Do your homework before you initiate the hiring process. Prepare the budget, project requirements, your business goals and expected outcomes from the project. The best way to do this is to create an app requirement document.  It is a document specifying the necessary information about the project which makes it easy for both you and the developers to understand the project and goals. Consider these things to include in the document:
Synopsis of the project

Project requirements, features and deliverables

Target audience and competitors

Non-functional and technical requirements

Expected project deadline
Apart from defining the budget and deliverables, prepare a set of questionnaires for the pre-screening process. This will make the hiring process quick and you'll be able to easily shortlist the ones that meet your requirements.
2. Make a List of Candidates
Most people find their ideal outsourcing partners using one of the four ways — referrals from the personal network, B2B directory listings, online job marketplaces or a simple search on the internet.  
Personal references are the most common and trusted ways of finding vendors. However, these days B2B directories such as Clutch.co and The Manifest and marketplaces like Upwork, Freelancer and TopTal have become a norm to find the best resources.
3. Analyzing the Candidates
Once you have a list of ideal candidates, analyze them to hire the best one for your project. Here are some of the things you must consider while analyzing.
Check the coder's or company's background — their professional profiles, websites, years of experience, etc.

Check their technical expertise — proficiency with relevant tools and technologies.

Go through their portfolio — the projects they have delivered in the past, the total number of projects, industry and niche expertise and technology used in those projects. 

If you are looking to hire a company, check for the number of resources available and ask for individual developer's resumes and profiles.
Check the reviews of the candidates on different platforms on the internet — what their clients have to say about their services. For example, platforms like Clutch.co performs independent interviews with companies' clients for genuine and authentic reviews. These reviews can help you better understand the quality of service these companies provide.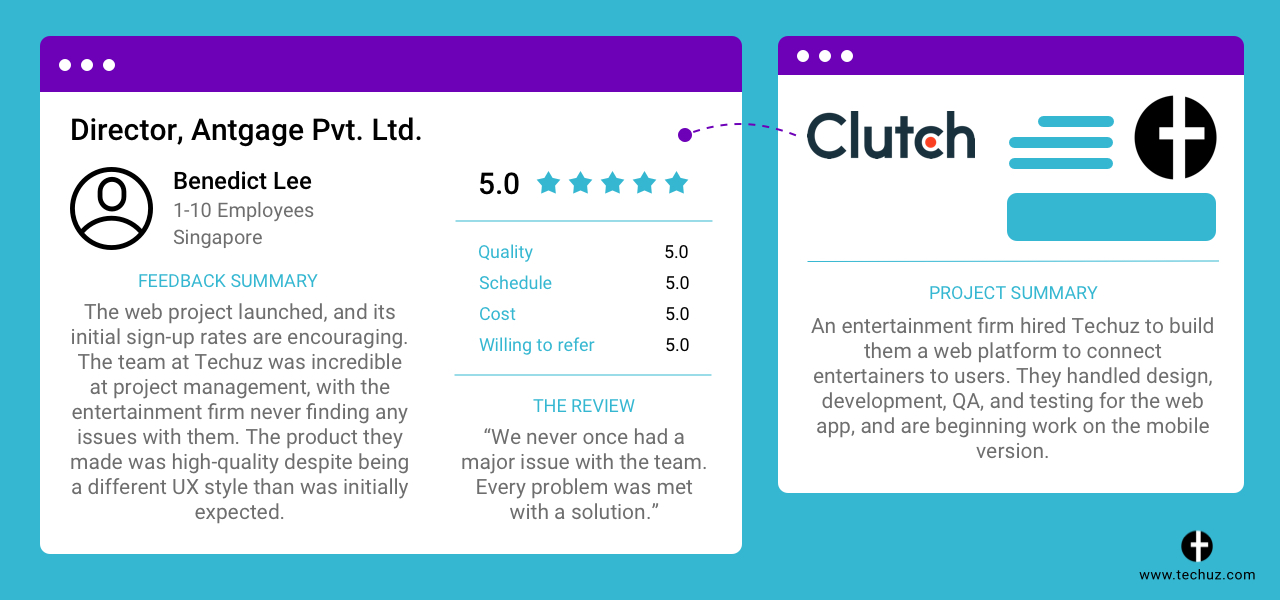 (Techuz's profile on independent B2B review platform Clutch)
4. Select the Ideal Coder or Company
Once you have analyzed the candidates based on the above criteria, you'll be able to select the ideal one for your project. Get a quote, discuss the payment options, set the milestones and sign an NDA.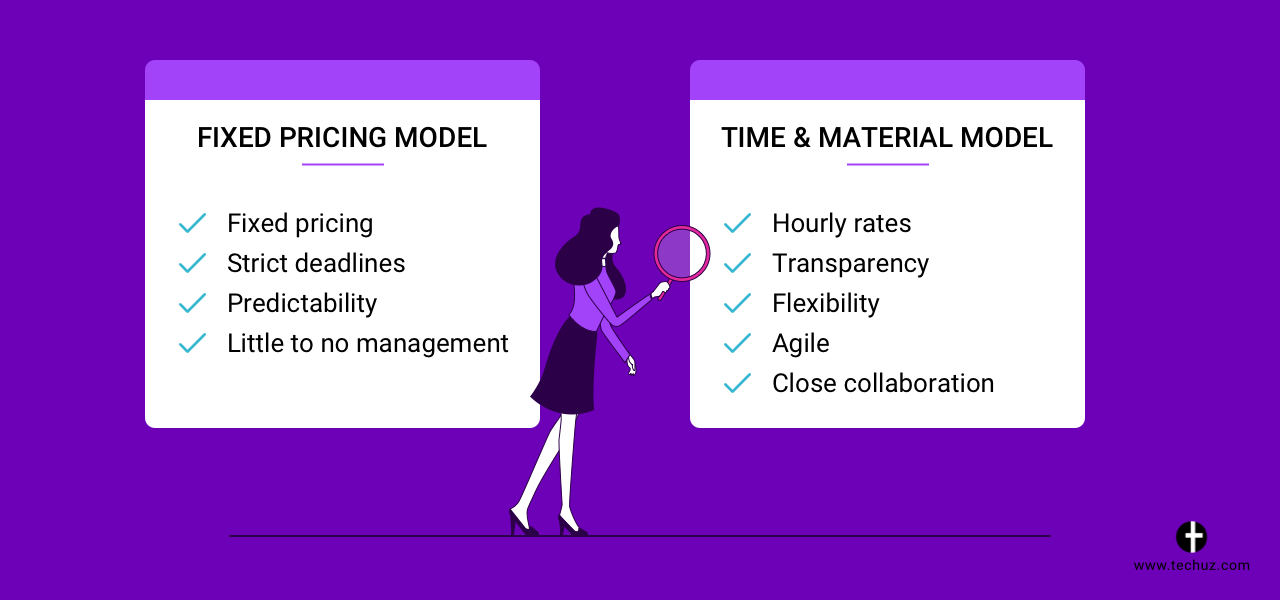 5. Define the Communication and Project Management Process
Lastly, define the communication and project management procedure. When you are outsourcing a project, communication and management is one of the prime factors for its success. The good part is there are numerous communication and management tools that enable flawless remote communication and management. 
Consider using the following tools for managing your project remotely:
Video conferencing: Zoom Meeting, Skype
Google Suite: Storage, sharing, emailing, file management and other necessary functionality
Communication: Slack, Skype
Design Collaboration: InVision
Project management: Trello, Basecamp, Asana
6. Provide Regular Feedback
Stay in touch with the team or the project manager. It essential to evaluate the work and give your directions after the completion of each milestone. Decide the time and frequency of calls for feedback to ensure you have are regularly staying in touch with the team and project development runs smooth.
And Lastly
7. Enjoy the Benefits of Outsourcing
Here are the 3 key benefits of outsourcing your development work:
Cost Efficiency
Outsourcing your app development is the best way to keep business costs down. In fact, a report by Deloitte reveals that cost efficiency is the major reason why organizations consider outsourcing.
It significantly reduces the overhead costs associated with hiring, managing and controlling the in-house team. Outsourcing to countries in Asia and western Europe helps you to cut down the cost with the lower wage rates. And further, you get a number of payment models that suits your business and project needs.
Skilled Talent and Better Efficiency 
Outsourcing not only helps in cost-cutting but also achieving better results that might not be possible with in-house teams. 
When you choose to rent a coder you have a large pool of talented resources. These resources are skilled with years of experience and technology expertise that might be difficult to find while hiring in-house.
Giants like Alibaba and Skype also outsourced their development to get the benefit of appropriate and skilled talent for their product.
Flexibility & Optimization 
Unlike in-house teams, scaling up and down the outsourced team is quite easy. As the work increases or to make the development faster, you can anytime hire more resources. Similarly scaling down the team can help to free up the unused resources and save costs. Further, if you outsource to a development company resources optimization becomes even easier.
Looking to outsource your project — need a dedicated team of developers or a top-rated app development company? You are at the right place.