Software outsourcing has become a global standard for it brings a number of benefits to the business. Flexibility, agility, cost-efficiency, productivity, specialized knowledge to name a few. If your business is software dependent, you know this list of benefits means you can rake in the moolah and achieve the desired business growth.  
In this article, will walk through all the ins and outs of software development outsourcing — things you must know, how to make the most out of it and how outsourcing can be a better strategy than the concept of "own, manage and direct control". 


What is Software Outsourcing?
Software development outsourcing is the strategy to hand over the software development and related work to a third-party — such as a software development agency — instead of an in-house team of programmers. Handing over the development to specialized experts ensures that you get the best results in addition to saving your overhead expenses.
As per the statistics, the IT outsourcing industry was valued at 66.52 billion U.S. dollars in 2019, and the major part of the outsourced services was covered by software development and maintenance. These statistics clearly show that outsourcing software development is the new normal.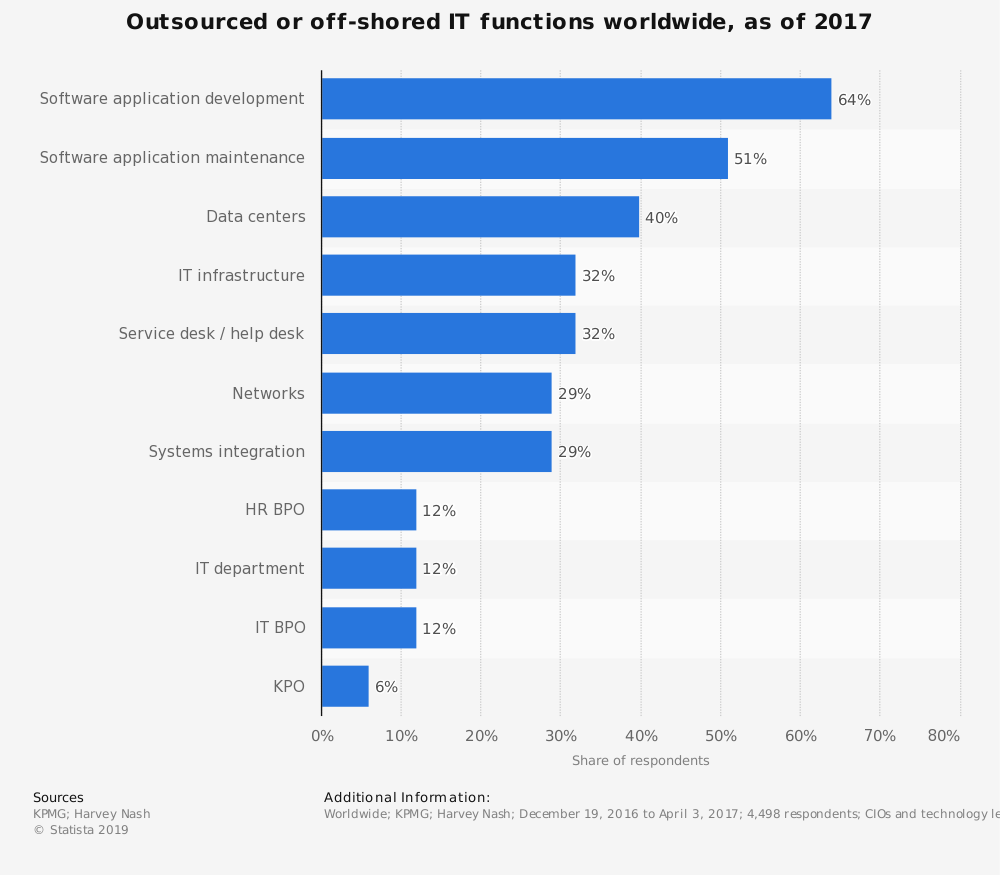 (Software development and maintenance are the major IT outsourced services)
How a Business Can Benefit From Software Outsourcing?
1. Cost Efficiency

It's not rocket science: Your business has to make more than it spends to maximize the profits. One of the ways to do this is to meet the business needs at the lowest cost possible. And outsourcing does the work for you. As per a report by Deloitte, the major reason why companies outsource is cost-cutting.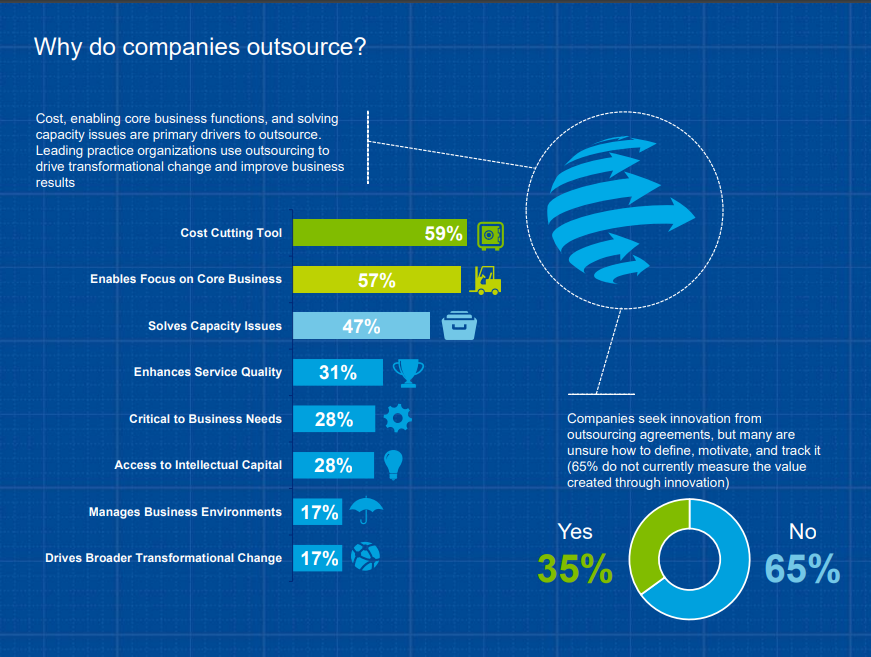 (Source – Deloitte's 2016 Global Outsourcing Survey)
An in-house team of software developers undeniably costs more to the business. In addition to their salary, the hiring process, cost of software & tools, employee benefits schemes, etc. make the in-house team way more expensive. These expenses further increase as developers gain more experience and the team expands.
While outsourcing the development drastically reduces the costs. The software development companies offer full-cycle development at reasonable rates to help you maximize the profits. Countries like India and Ukraine are known for delivering high-quality services at attractive rates that means all your business needs are met on the budget without compromising on the proficiency level.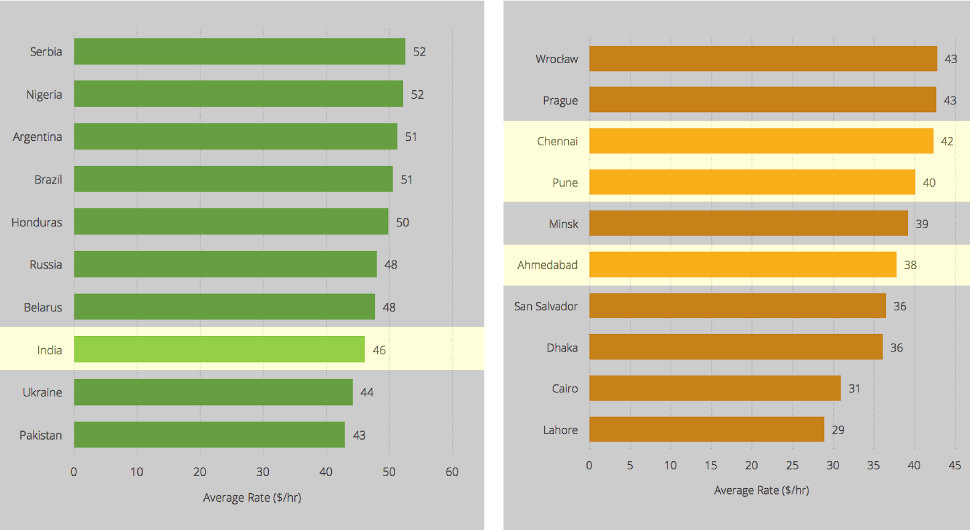 (Average hourly rates of software development outsourcing by countries. Source – Codementor)
2. Flexibility and Faster Development
Flexibility is another major perk of outsourcing. Launching the software on time can be a challenge — any delays in time to market can affect the business relations with customers and stakeholders. 
That's when outsourcing makes things easier. It gives you the flexibility to scale-up the team anytime as per the project needs, and without any prolonged hiring process. Software outsourcing companies can easily tackle emergency situations such as allocating new resources to the project instantly to meet the tight deadlines. 
But it's not just scaling up. Outsourced resources can also be cut down to optimize team and save costs. At times, employing more resources than necessary can affect the bottom line of the business. This generally happens in an in-house team when you hire more resources when scaling up but have to bear the expense of the unutilized resources later on. Here, outsourcing to a software development company makes resources optimization flexible and thus reducing the costs.
3. Focus on Core Business
Software development is a time-consuming process. Focusing on building and managing the tech project can take you away from your core business activities of generating revenue and business growth. Outsourcing the development helps you focus on your business priorities. 
Outsourcing to a trusted software development company works just like extending the department of your organization. You focus on your core business while the outsourced company takes care of your technical needs such as development, managing the resource and maintaining the quality without wasting your time on recruitment, training and payroll of the staff. 
4. Get the Right Expertise and Skills 
Outsourcing software development to a provider offers you the skilled tech talents that have deep expertise in sophisticated technologies. From business analysts to UI/UX designers, front-end developers and back-end architects — you get the complete package of skills for the success of your project all under one roof. Finding such talent and hiring them on a full-time basis can be a tall order — outsourcing does the work here. 

You can choose the outsourcing partner with the right expertise and proven experience that's aligned with your project needs. At the same time, it's essential to understand the outsourcing models that fit your project. Here are some of the common software outsourcing models. 
Software Outsourcing Models
Time and Material Model
Time and material is a popular outsourcing model for large projects. In this model, a software development company provides the resources — developers, designers or QAs and charges on hourly basics. This model would work for you if your project requires some significant research and changes during the development. 
Dedicated Development Team
In a dedicated team model, the service provider supplies the client with software developers and other necessary resources for long term basics. These resources are chosen by the clients as per the needs, experience and skills required for the project. The client may manage the resources on their own or even assign a project manager that would communicate to the developers on their behalf. In a dedicated team model, the resources can work remotely or at the client's office. 
Staff Augmentation
Staff augmentation is an outsourcing model that enables extending your software team as per the project needs. The client hires the resources from a software development company on contract basics as per the requirements. This model is similar to the dedicated team and helps cut down the cost liable for hiring additional full-time resources.
Fixed-Price Model
A fixed-price model is suitable for projects with a definite scope and requirements. A fixed budget and deadline for the development is decided mutually by the service provider and client in advance. This model ensures a fixed budget, regardless of resources utilized for the development.
Examples of Successful Software Outsourcing
Alibaba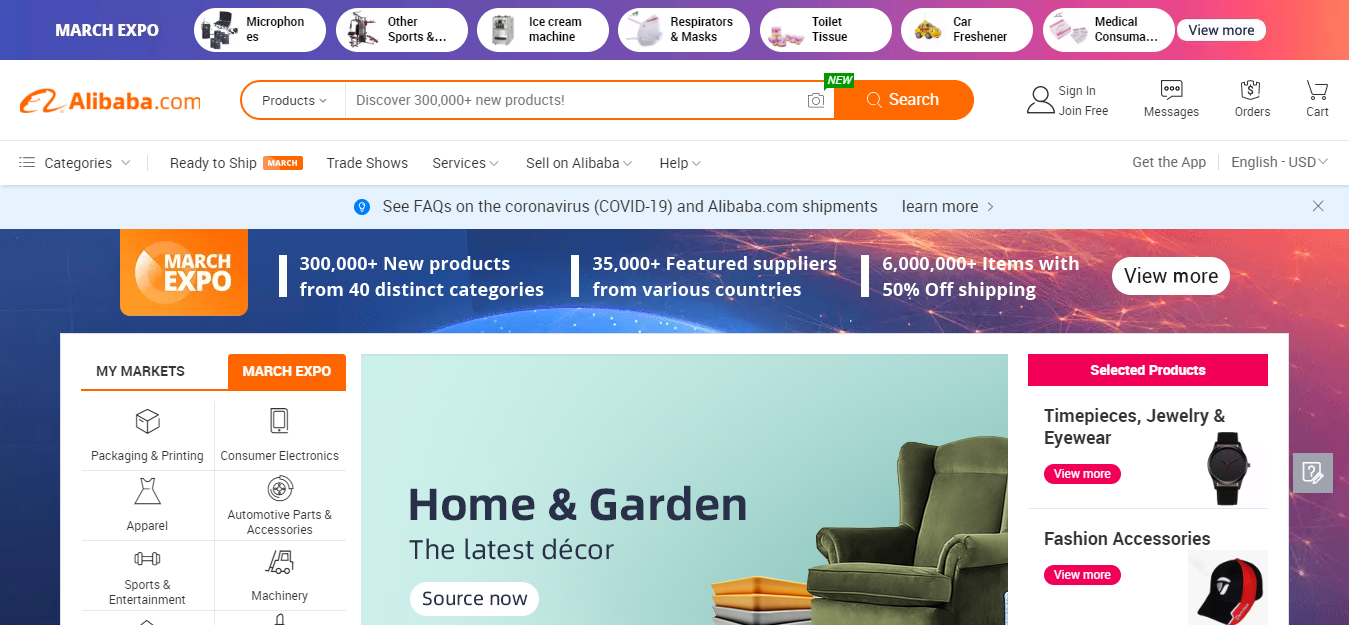 Alibaba, the China-based global marketplace valuing about $420 billion outsourced the development during the initial years. At the time, China didn't have the skilled talent needed for the development and on the other hand, it had to compete with brands like eBay. This made it essential for them to find the right talent to fuel growth and outsourcing made it possible.
BaseCamp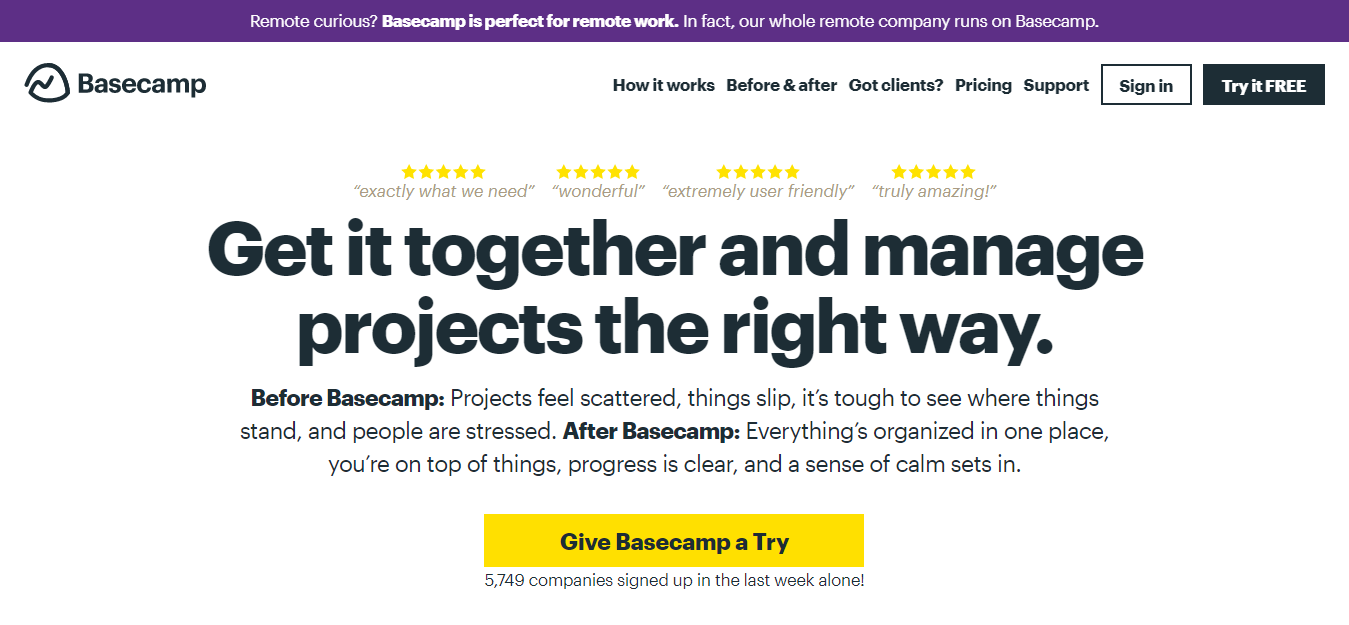 Basecamp is another great example of how software development outsourcing can help you achieve your desired goals. The popular project management tool was started by a team of 4 and soon it began to grow. Jason Fried, Founder and CEO of Basecamp admitted that they were delivering a great product to the customers but had issues with in-house process and management. As a result, they decided to outsource the development that helped them focus on business priorities. 
Skype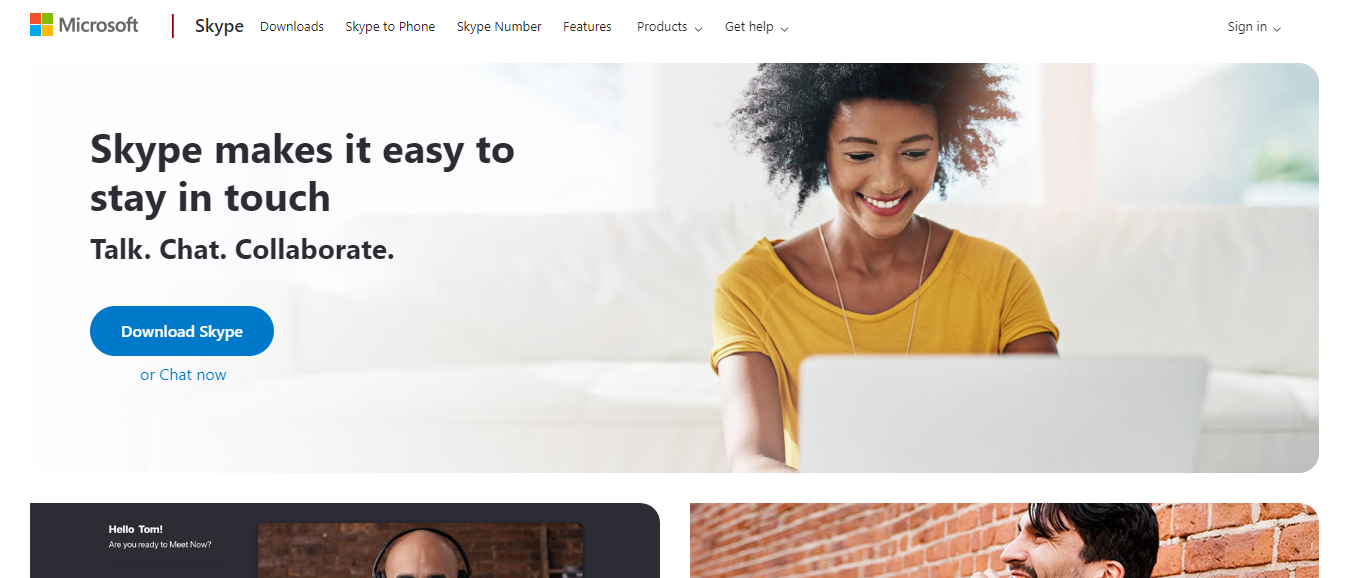 Skype, the company that revolutionized communication by introducing phone, chat and video communication — and in fact, the most used tool for communication by remote workers was also outsourced during the initial years. The company outsourced its back-end to 3 Estonian developers and later they were brought in as partners before being purchased by Microsoft for $8.5 billion. Outsourcing to find the team of developers proved to be an effective strategy for Skype and one of the reasons for its massive success.
Upwork
UpWork, a marketplace for freelancers and contractors that also makes finding quality outsourcing talent easier, outsourced its development and engineering. The company that is a merger of two most popular platforms, Elance and ODesk hired freelancers for development from the ODesk marketplace. 
Tips to Hire Software Outsourcing Company
1. Define Your Requirements
Before you hire an outsourcing partner you must have a clearly defined project requirement. This includes what your project needs and what you expect from the outsourcing company.

You can make a brief outline that includes the features, functionalities, competitors and technical requirements of the software. Defining these requirements will make it easier for you to find the right outsourcing partner with skilled resources and experience. 
You should consider creating an app requirements document. This is a prerequisite for a software project that makes the outsourcing and development process much effective and easier.  You can check our article on how to draft an app requirement document for more details. Here's what you need to add in the document.
Synopsis of the project
Target audience
Features
Navigation pattern
Non-functional (Technical requirements)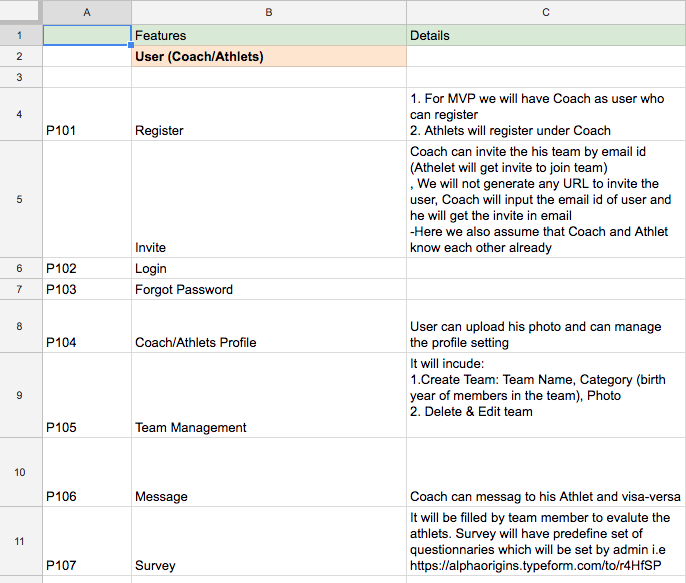 (An example of client's software requirement)
2. Make a List of Companies
Make a list of 5-10 software companies that you can partner with.  This initial task of finding the list of companies can be tough but there are few sources that make things easier.
Get referrals from your network
This is one of the most effective ways to find the right outsourcing company as the referred companies prove to be more reliable.  You may ask your friends and colleagues in your industry and make a list of companies with the necessary expertise and credentials.

Check directory listings
You can find some reliable companies on reputed directory listings on the web.  This is another popular method to find outsourcing partners but you need to ensure you are checking the genuine and reliable ones.
Clutch.co is a well-known directory listing to find an outsourcing partner. You can find some of the best software development, web development, mobile app development, design and marketing companies on the platform. The platform also conducts independent interviews and reviews of the listed company's clients.  This ensures the reviews and ratings submitted are transparent and reliable.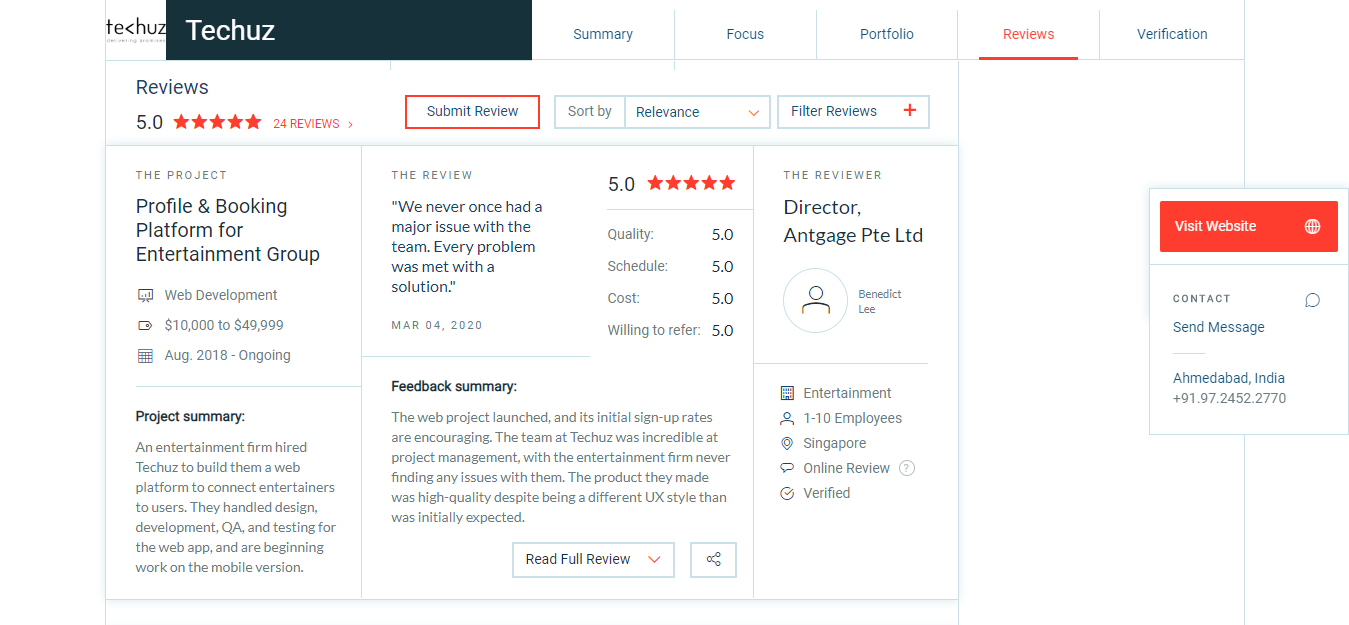 Check online marketplaces
Online marketplaces have been here for a while serving the needs to outsource the work. You can post the job you want to outsource or check the company profiles on the platform. These marketplace platforms also work as directories with reviews and ratings, information about the company, past projects and rates.
3. Technical  Skills and Capabilities of the Company
You need to ensure that the outsourcing partner has the right technical skills and is capable to meet the needs for the successful execution of the project.  Here are some of the important things you need to consider while choosing the outsourcing team.
Technical expertise
Check the technical skills of the team, their experience in using the tools and technologies required for the project. One of the ways to evaluate their technical expertise is with a sample task. This is an effective way of evaluating the team's technical deft along with their communication skills and adherence to deadline.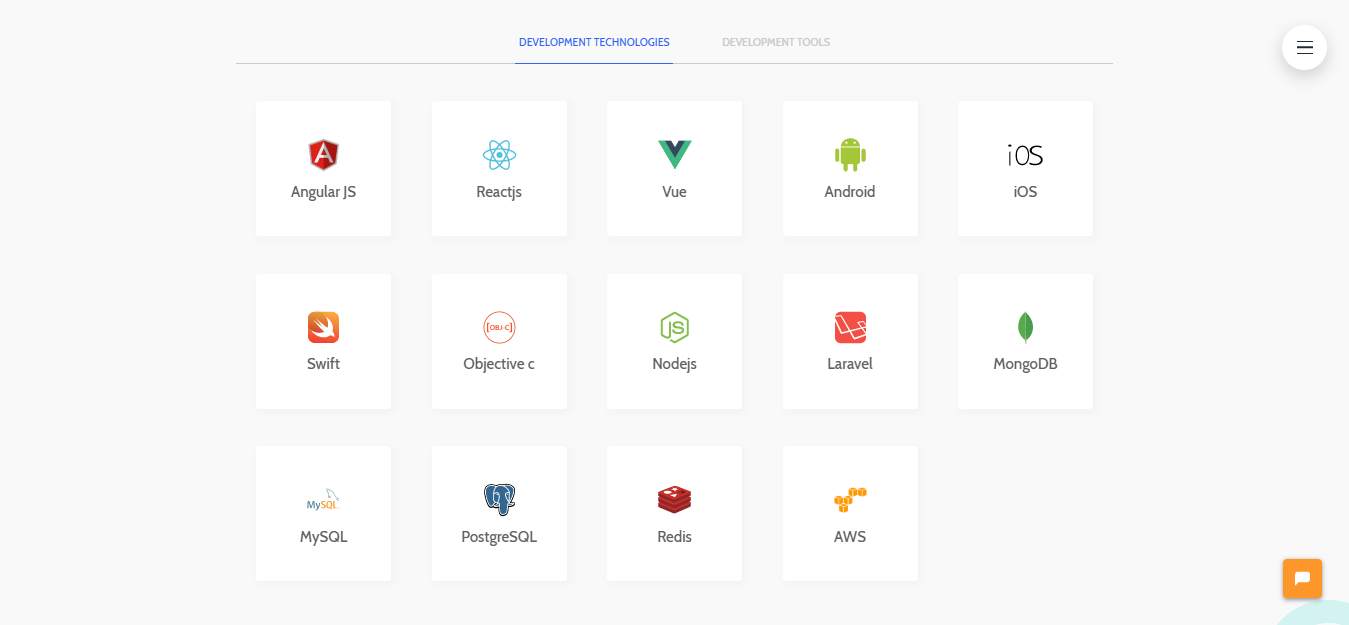 (Technologies we are use at Techuz)
Industry and niche experience
Experience in developing software for the same or similar industry as yours would make the development process faster and easier. Consider the team with similar experience that would make it easy for you to explain the concepts and project requirement.
Development process
The software development process is the way your project will be executed. If your project requires to follow certain SDLC methodologies, you must ensure in advance if the team is well-versed with it.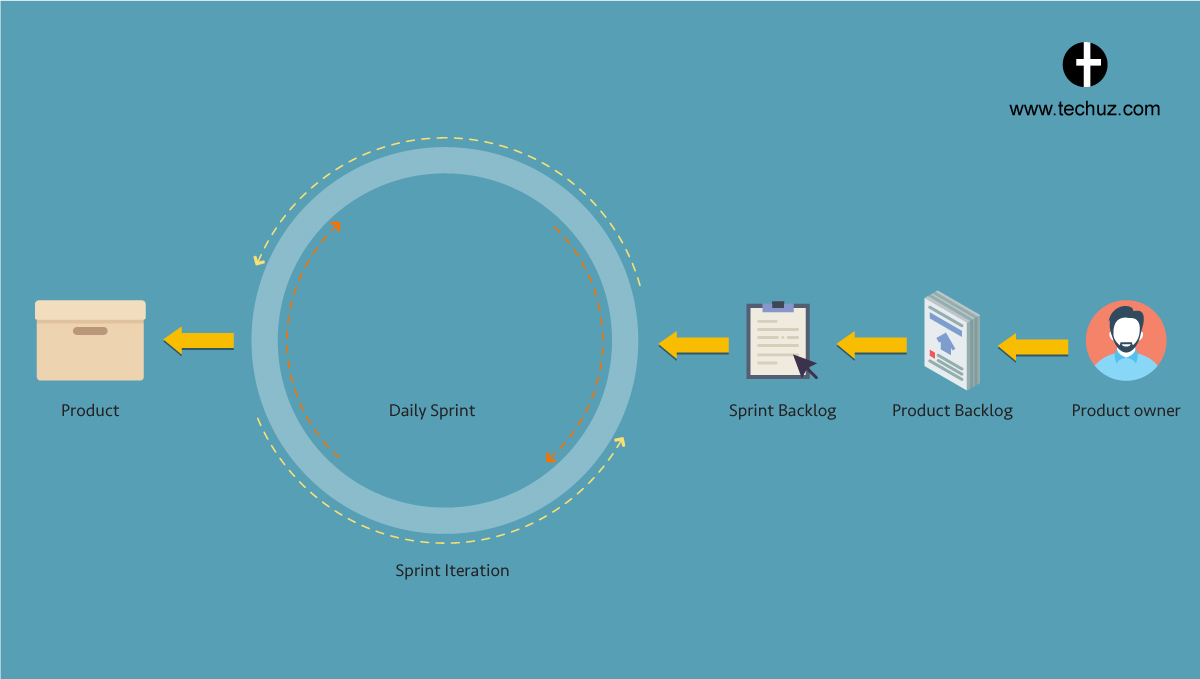 (Software development process example- Scrum)
Communication and collaboration
Even though the team is not in-house, you need to have effective communication and collaboration. This is quite critical as sharing updates and feedback should be quick and sound. So you need to understand the communication and collaboration process of the team, availability as per your timezone and even the communication skills in your preferred language.
Security and confidentiality
For any software outsourcing project, you need to ensure that the project information and business details outsourced are in safe hands. Understand the company's security policies, source-code management and NDA documentation process.
4. Check the Portfolio
When choosing the outsourcing company, it's essential to check their portfolio. It ensures you are going with the company that has delivered successfully in past and can do it for you too.
While going through the portfolio dig will into their work about the specific technologies used, experience in developing software in a niche, country of their clients and more.
Most of the outsourcing companies showcase their work on their website or would share a corporate deck. While discussing your project you can check their past work and understand what and how have the team delivered. Here's a list of things you should consider:
Has the company delivered projects similar to yours?
Do they have experience in your industry?
What size of projects have they delivered — small, medium or large?
Check what the clients have to say about their work or the impact of their service for the client.
What was the scope of the work they delivered in the related projects?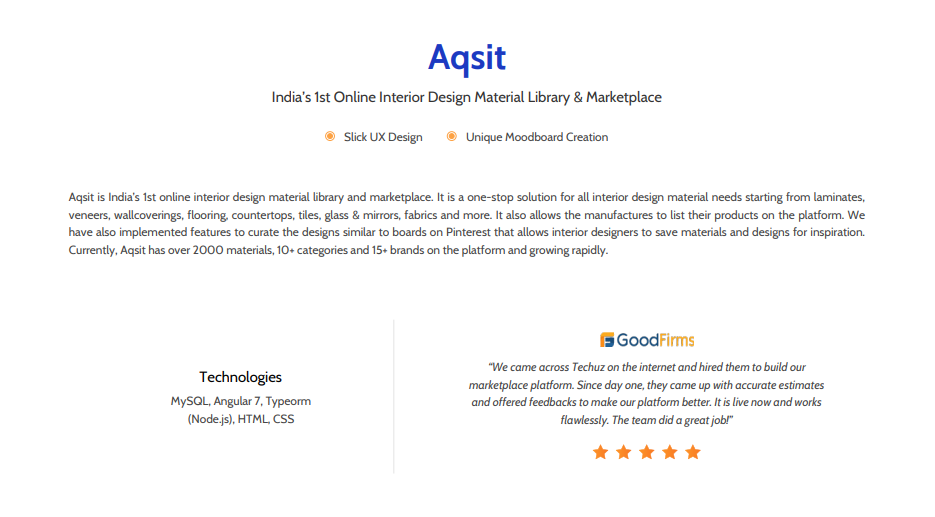 (An example of a company's portfolio)
5. Meet Them in Person
Although remote hiring and management work like a breeze these days — thanks to advanced tools and technologies — it's great to meet the outsourced team in person if possible. If you are investing heavily for a long term project, it is advisable to visit the outsourcing company personally. This gives you an opportunity to understand the company's culture, working process, infrastructure and connect with the team in a better way. 
Wrapping Up
Any business, be it a start-up or a huge enterprise, outsourcing software development can provide huge advantages that businesses are looking for. Companies that have become household names like Skype and Alibaba utilized outsourcing for cost-efficiency, finding better talent and productivity that has driven great results. So there is no reason for you not to adopt software outsourcing for your business.

We here at Techuz provide high-quality software development services with proven methodologies to ensure the best result for your project. If you are looking to streamline your software development with quality outsourcing, we can be your trusted partner. Just fill out the form and we'll get back to you.