It's been a long time since you were excited about your business website. The domain name on your visiting card was pride and your website was packed with visitors like the crowded Times Square. But now it's no longer the same. The huge slider on the homepage feels lonely and the graph of the visitors is tumbling down the slope.
Do you know what does that mean? Your website is outdated, and it needs a makeover.
Let's be honest, in this web dominated world you must adapt to the changing web trends and stay updated to provide the best user experience, to grow and develop your business and to be a market leader. If not, you'll be out of the race in no time.
So, is it the time to update your website? If you observe any of the following signs, yes.
Signs Revealing that Your Website Needs a Redesign
#1. Your Website is Not Optimized for Mobile
Mobile phones have replaced everything around us. The phonebooks to store contacts, notepads for jotting down notes, cameras for capturing the precious moments, credit cards for payment and desktops to surf the internet. The use of mobile phones has dramatically increased and looking at the status quo, you can't ignore the gravity of mobile-optimized websites. The following stats prove the importance of the same.
80 percent of internet users own a smartphone (Smart Insights)
 57 percent of users say they won't recommend a business with a poorly-designed mobile site. (socPub)
61 percent of users are unlikely to return to a mobile site they had trouble accessing and 40 percent visit a competitor's site instead. (MicKinsey & Company)
83 percent of mobile users say that a seamless experience across all devices is very important. (Wolfgang Jaegel)
Average smartphone conversion rates are up 64 percent compared to the average desktop conversion rates. (CMS Report)
In August 2017, worldwide web pages view was dominated by mobile web traffic which was 52.64 percent. (Statista)
Unequivocally, mobile is an important part of your users' life as it allows them to fetch and share the information on the go anytime, anywhere. So, if your website is not still not mobile friendly in 2018, make sure to get it done.
#2. Your Current Technology is Out-dated
Your website might not be performing as great as it used to five years back. The reason behind it is the technology used to develop your website. It's outdated! With the fast-paced environment, new and better technologies are introduced that has set new standards. And the outdated one is no match with it. So, in order to provide the best user experience and stay ahead in the competition, you must upgrade to the new technology.
#3. Your Design Seems Primitive
Just like the technology, even designs are evolving continuously for better user experience. Web developers and designers are coming up with innovative and interactive designs to appeal the users. In fact, every year we can observe new web design trends that make the web world more engaging and beautiful. Just compare a present-day website with a website designed a few years back. You'll notice a huge difference. The designs are worlds apart and so is the user experience. If your website has been designed a few years ago and seems to be primitive, it's time to redesign the website.
#4. Your Website Doesn't Have an SSL (Secured Sockets Layer) Certificate
If you are a technophile, you might be familiar with the term "SSL Certificate". Even if you are not into technology, I bet you would have noticed some websites' URL contains "HTTP" while some have "HTTPS". The later ones are SSL certified and are displayed in green with a padlock in the address bar of the browsers.

Now you might be wondering, "But what it has to do with my website?"
If your website does not have an SSL certificate, the data transferred over is not secure and is prone to be misused. But websites with SSL certificate securely transfers the data by encrypting it. Not only that, it can even help you to improve your ranking on the search engine!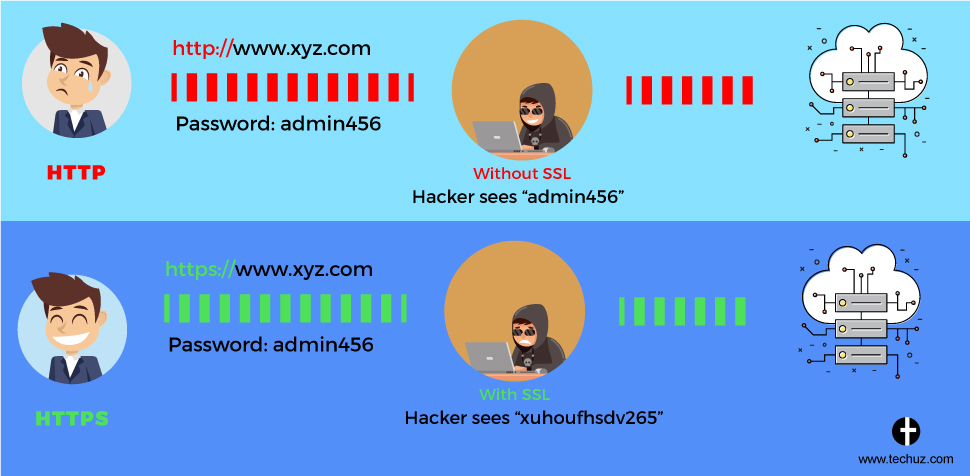 #5. Changes in Business and Brand
Your website is your business's digital identity. If there are any changes in your business, whether it has grown from a start-up by a bunch of like-minded people to a well-established company or changes in the logo and branding, it should be depicted in your website too. A contradiction in your business or brand and your website can affect your image. And you may end up losing credibility among visitors. So, if you were busy developing your business and had no time to update your website alongside, now it's the time to do it.
#6. Your Website is Sluggish
With the increasing standard of the technology and higher bandwidth, user's patience has been diminishing. If your website is not fast enough, users will abandon it in no time affecting your bounce back ratio. Stats show, 40% of people abandon a website that takes more than 3 seconds to load. In fact, 47% of consumers expect a web page to load in 2 seconds or less. And if you have an e-commerce website the gravity of the load time is even more. If an e-commerce site is making $100,000 per day, a 1-second page delay could potentially cost $2.5 million in lost sales every year.
Likewise, mobile web page speed is equally important. Web development companies are working to provide a superior user experience on mobile devices just like a desktop website. Even Google has announced 'mobile first index' which would determine the ranking of a website based on the speed and user experience. So, be it desktop or mobile, if your website is taking time to load it needs a makeover.
Wrap Up
Since everything has shifted online, your business website is now one of the most crucial factors for the growth. It is equally important to stay updated with new trends and technology to stay ahead in the game. Though sometimes coping up with the changes can be a pain in the neck, it is imperative for the business growth. But as a top web development company, we are here help you with it. We are Techuz, an established web development service provider in India. We have been serving our clients with web and mobile solutions for more than half a decade now. So, if you are thinking to redesign your website and grow your business, feel free to contact us.