The mobile app is the present and would predominantly govern the future as well. Hence, owning a mobile app in this modern and technology-ridden era becomes more important than ever. However, the question to be answered here is that does your business really require a native mobile app or a responsive website would help you sail the boat?
This dilemma never ends.
According to a stat, consumers spend more than 85% of their smartphone time using native mobile apps, however, 84% of that time is spent using just five applications. The top five apps for any individual vary depending on their interests.
For some, it may be social networking or gaming apps while for others the list may contain e-Commerce apps or instant messaging or a combination of both. Aside from these five apps, consumers use a specific app 10 times or less in the entire lifespan.
Another thought-provoking stat you might be interested in is- by 2020, 45% of the total e-commerce market in the US would be governed by mobile.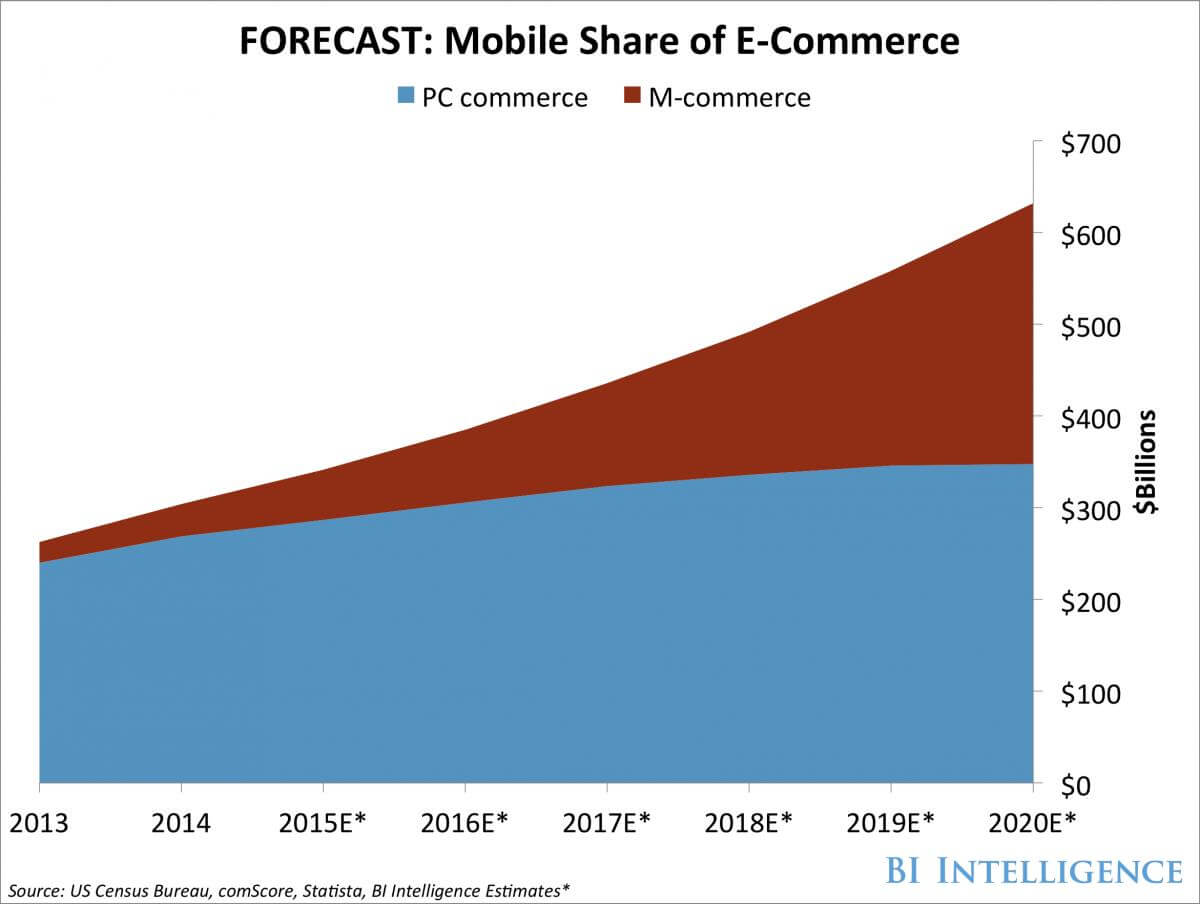 (Image source: BI Intelligence)
The above-mentioned stats certainly calls for an extensive analysis before you put your hands on either of the discussed prospects- responsive website or mobile app.
Hence, being the technology nerds we present you some consideration points for both so that you board the right ship.
War of the fittest- Mobile App vs. Responsive Website
The success of the mobile-first business model of apps like Instagram, Uber and Snapchat may entice you to go for a mobile app. However, you can't evade the importance of having a responsive website for users who browse the Internet through search engines on their mobile devices.
It all depends on how your users will consume your service or product.
To understand that you need to perform three actions-
Purpose of app– to understand its core objective and validate assumptions
Market analysis– to understand what is the need for the market
User behaviour – to understand how users will connect and interact with your brand
These research points will present you with a clear picture of where your business model fits. To understand better following are some use cases for each- mobile website and mobile app.
When should you go with a mobile app?
Here are some prominent use cases that justify owning a mobile app.
Users like to do things while they are on the go. A mobile app is a favourable option in this regard. It offers a seamless experience and enables users to take actions anytime and from anywhere. Just like the popular cab service provider, Uber where users get a quick access to nearby cabs regardless of time and location. However, the Internet connectivity is mandatory.
A mobile app supersedes a mobile website when users require using services without the Internet connection. If you offer services like e-book reader or notes or wallet that do not require a continuous wireless connection then going with mobile app seems more feasible.
If you cater a large section of society by offering utility services like bill payments, ticket bookings, calendar synchronization, reminders, to-do notes and schedules then mobile app fits the bill. A mobile app acts as a quick and an easy medium to pay bills, book tickets and get daily reminders of tasks to be done. This saves significant time and effort.
If you have built something that runs on wearable technology then owning a mobile app is mandatory. Be it healthcare aids, activity trackers or any other IoT device, you require a mobile app to establish a seamless connection and sync them to gain useful insights.
According to a stat, mobile e-Commerce apps have 1.5x and 3.5x better conversion rates than desktop and mobile websites respectively. This clearly indicates how important it is to build a mobile app for your e-Commerce store.
When should you go with a mobile-friendly website?
Use cases to complement your decision of building a responsive website and not a mobile app.
If you want to have a budgeted solution that runs exceptionally well on different platforms, browsers and operating systems then opt for a responsive website. You don't have to build separate versions of a mobile website. However, you can always scale up when you have funds and build a mobile app.
If you want to outclass your rivals on organic search engine results front then you'd surely require a responsive website. The search engine giant, Google prefers mobile-friendly websites more than ever and has hinted its shift to mobile-first indexing in late 2016.
A mobile website offers immediacy and does not require installation. Plus, a user can never delete your website and is entitled to use your services whenever he feels like.
If your service and product require continuous upgrade then a responsive website is preferred. All you need to do is add new functionality or feature, integrate into your existing website and it goes live on every single platform- simple and carefree. On the flip side, adding a new feature in a mobile app is troublesome.
Mobile apps and mobile websites are important in different regards
With a mobile app, you offer users a quick way to accomplish tasks while with the mobile website you offer them immediacy.
Both the worlds hold their importance and come with respective benefits which can't run over the other. So, it's important to analyze what your business model demands and how your target audience will interact with your service or product.
If you are still confused and have some queries then consult with an experienced mobile app development company that will help you to make a wise decision to choose between a mobile responsive website or a mobile application.