Smartphones have become an inseparable part of human existence. We are witnessing an era where smartphones are proliferating faster in numbers than the humans on earth.
These smartphones are getting faster, more powerful, with more storage and better screen resolutions while technologies like AR, VR, Artificial Intelligence and Machine learning and Blockchain are grabbing the eyeballs of the developers. So, there is no doubt that we are going to see some amazing mobile app development trends in 2018.
What will be the Mobile App development Trends in 2018?
1. Augmented Reality
2. Virtual Reality
3. Internet of Things(IoT)
4. Apps for Wearable Devices
5. AI (Artificial Intelligence) driven mobile applications
6. Instant Apps
7. Blockchain
8. Biometrics
9. React Native
#1. Augmented Reality
Augmented Reality and Virtual Reality have received a notable shoutout in 2017. But it was just a start.
In 2018, AR mobile apps will be way more than catching Pokémons in the backyard.
Currently, Augmented Reality has taken over the mobile gaming industry but the use case of blending digital content in the physical environment of the user has a quite broad spectrum. This includes video entertainment, retail and e-commerce, education, healthcare and real-estate.
With the release of iOS 11, Apple has sown its seeds in the AR ground. Apple's ARKit is a new set of APIs to build AR Apps for iOS devices. The American technology giant is also speculated to release its Apple AR glasses in 2018.
On the other hand, Google has kept it open for the developers to develop the AR apps with Java, Unity, OpenGL and its very own ARcore. Even Google is anticipated to come back with its Google Lens integrated with ARcore to provide a whole new level of user experience. All these events this year are clear indications that AR will grow by storm in 2018.
Famous SDKs for Developing AR Apps
#2. Virtual Reality
Wikipedia defines VR as "A computer-generated scenario that simulates a realistic experience. The immersive environment can be similar to the real world in order to create a lifelike experience grounded in reality or sci-fi. Augmented reality systems may also be considered a form of VR that layers virtual information over a live camera feed into a headset or through a smartphone or tablet device."
Thus, while AR blends the digital content into the physical environment of the user, VR makes the digital content so vivid and lifelike that it seems to be real.
Smartphone manufacturers like Samsung and Honor are coming up with high-end VR enabled smartphones and these are getting much popular. The social media giant Facebook is working on its VR venture named- Facebook Spaces. On the other end even, VR manufacturers are making the VR headsets available to the large audience.
This opens the doors for the mobile app developers to enhance the user experience through virtual reality and it will be mainstream in mobile app development industry in 2018.
Famous SDKs for Developing VR Apps
#3. Internet of Things(IoT)
The Internet of Things is one of the technologies that has been booming in recent years and in 2018, it's going to make its mark on the mobile app development.
IOT is an environment where our everyday devices are connected to the internet and can be controlled remotely. The number of devices connected to the internet in 2017 was 20.35 billion which included solutions for smart homes, cities, automobile, transport, healthcare, etc.
This number of connected devices is expected to grow to 23.14 billion in 2018 according to Statista.
Most of these IOT devices rely on the mobile application to collect information and carry on tasks. So, it is but natural that mobile app development for IoT applications will surge in 2018.
#4. Apps for Wearable Devices
Though the market for wearable app development has created its own identity over the past few years, it is interconnected with the mobile apps.
Looking at the trends of growing wearable app market, Apple and Google have extended its OS from mobile phones to wearable gadgets with watchOS and Android Wear respectively.
These applications range from fitness, healthcare, online transactions and payments to industrial apps. Even companies like Apple, Samsung Electronics, Fitbit, Stryker, Corporation, Fuzz Productions, Google etc are venturing into wearable hardware that makes it a trend of mobile app development of 2018.
#5. AI (Artificial Intelligence) driven mobile applications
Apps are getting smarter, better, more customized and personalized that is enhancing the user experience. All this is possible because of machine learning and artificial intelligence in mobile applications.
AI in mobile apps have been already helping us in many ways such as voice assistance, text prediction, route and location suggestion, etc and in 2018 these functionalities are going to increase.
AI will even play a crucial role in helping the business take right decisions and form strategies with the valuable insights and data collected through machine learning. According to a report from International Data Corporation(IDC), 75% of developer teams will include cognitive/AI functionality in one or more applications.
Thus, for the coming years, AI-driven apps are going to help in collecting crucial insights and data to formulate business strategies and enhance the user experience.
Suggested Reading- The World of AI(Artificial Intelligence) Driven Applications
#6. Instant Apps
Google announced Instant Apps at Google IO in 2016 and was available for general use in May 2017. Since then it has been a part of Google Play Store supporting the Android OS version 5.0 and above.
With Instant Apps, the user can use the application instantly by clicking on the "Try Now" button without installing it on the phone. Instant Apps allow creating a minimal version of the app by breaking it into small usable chunks that the user can use when clicked on "Try Now" button.
Instant Apps have been proven to be beneficial to the business. Vimeo increased the session duration of their app by 130% and Jet, an online deals app has observed 27% increase in their conversion rate.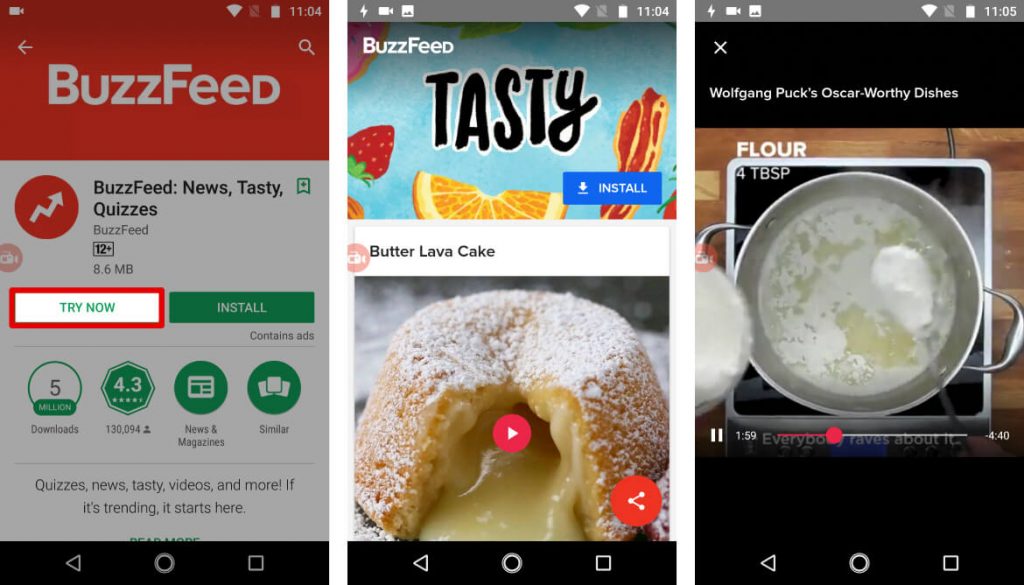 (BuzzFeed's Instant App )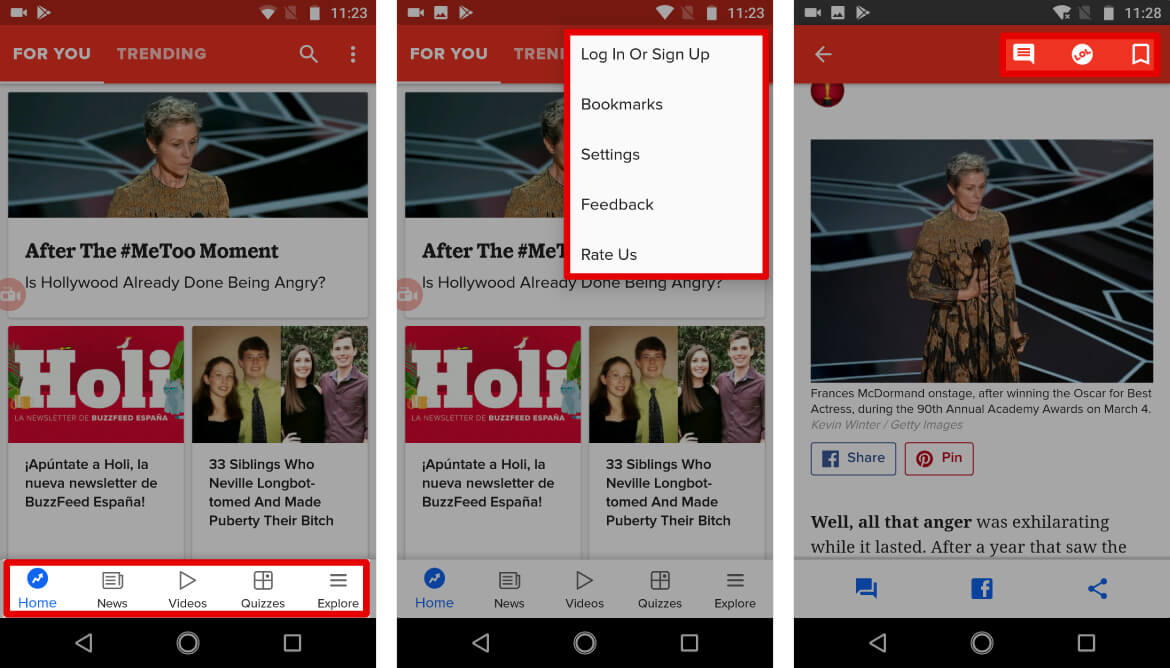 (BuzzFeed's fully featured native app )
#7. Blockchain
With the clamor of cryptocurrency last year, blockchain has become a crowd-puller. Every industry wants to adopt it and mobile app development is one of them.
The fascinating theory of Blockchain will revolutionize the development of financial and enterprise apps providing more security and efficiency.
Currently, there are intermediaries involved in any financial transactions but with Blockchain's peer to peer replication of the ledger, the intermediaries will be removed. Further, the data is tamper-proof as it is decentralization and can't be altered once entered the ledger.
The smart contract which embeds the business logic into the computer readable language is not limited to just financial transactions. The imagination of the developers is the limit for the purview of possibilities.
#8. Biometrics
Since Apple introduced Touch ID with iPhone 5s, biometrics in mobile phones have become an integral part.
Now the biometric is no longer confined to finger-prints as even the face recognition is the part of it.
Leading smartphone manufacturers are coming up with biometric-enabled devices for a better experience and more importantly convenience of the users.
Biometrics are being used majorly in financial, banking, mobile payment and healthcare apps.
Though it may not replace the passwords, biometric will be definitely a mobile app development trend in 2018.
#9. React Native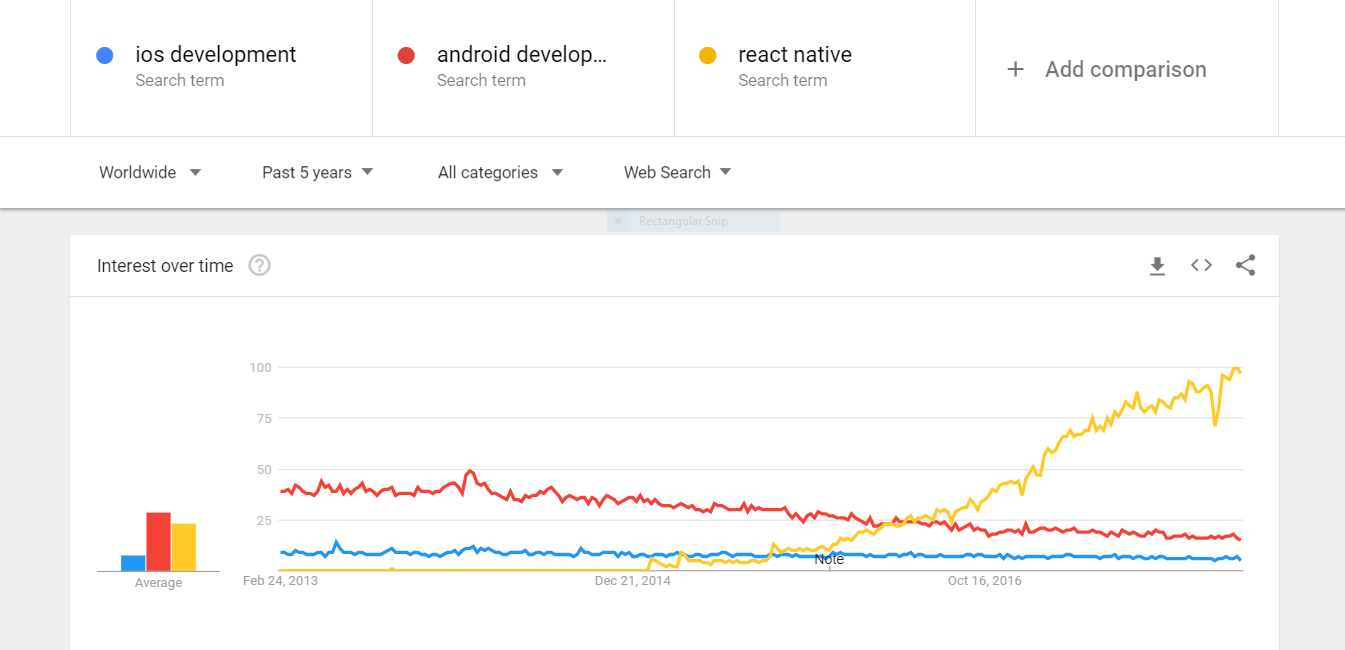 (Popularity of React Native according to Google Trends)
React native is one of the fastest growing Javascript library capable of building feature-rich native apps for Android and iOS. Its popularity spurred in 2017 when Facebook relicensed it under MIT which means it became free from any copyrights or patent issues.
The javascript framework has already been famous for providing flexibility and freedom. It ranked second on Github for projects with most contributors and is growing constantly.
One of the reasons driving the popularity of React Native is that the developers don't need to learn Swift or Java to develop a mobile app. They can build a sophisticated native app by using just JavaScript. The fact that apps like Skype, Facebook, Instagram, etc are made with React Native depicts its potential and it makes its place in the top mobile app development trends of 2018.
Suggested Reading- 2018 the Year of React Ecosystem that Will Drive the Growth of Web, Mobile, VR and Data-Driven Apps
Wrap Up
2018 is already here and innovative technologies are getting trendy. These trends seem to change the mobile app industry and cater benefits to the users as well as the business. Though to cope up with these ever-changing trends can be a pain in the neck, it is essential to survive in the market. And we here at can help you to stay updated with these trends. We are a top mobile app development company catering custom mobile app development services all over the globe. Feel free to contact us for any inquiries or app development assistance.
Suggested Reading- Top Web Development Trends in 2018