In the 1960s, two Stanford professors experimented to teach arithmetic and spelling in a better way. They used a computer.  It was the first time such technology was used to improve learning. Fast forward sixty years, educational technology or edtech has become a fundamental part — be it early childhood learning, personal tutoring, homework assistance, education resources, study notes, or even upskilling, career development, and hobbies-related learning.
At its core, edtech is using technology to enhance the learning experience and pedagogy for improved results.  And some edtech companies are doing this incredibly well. So good that they are not only radically redefining education but also taking home huge VC funds and revenue. So here's a list of such edtech companies that you must know about.
Top EdTech Companies and Startups
1. Byju's – Leading K-12 Tutoring Platform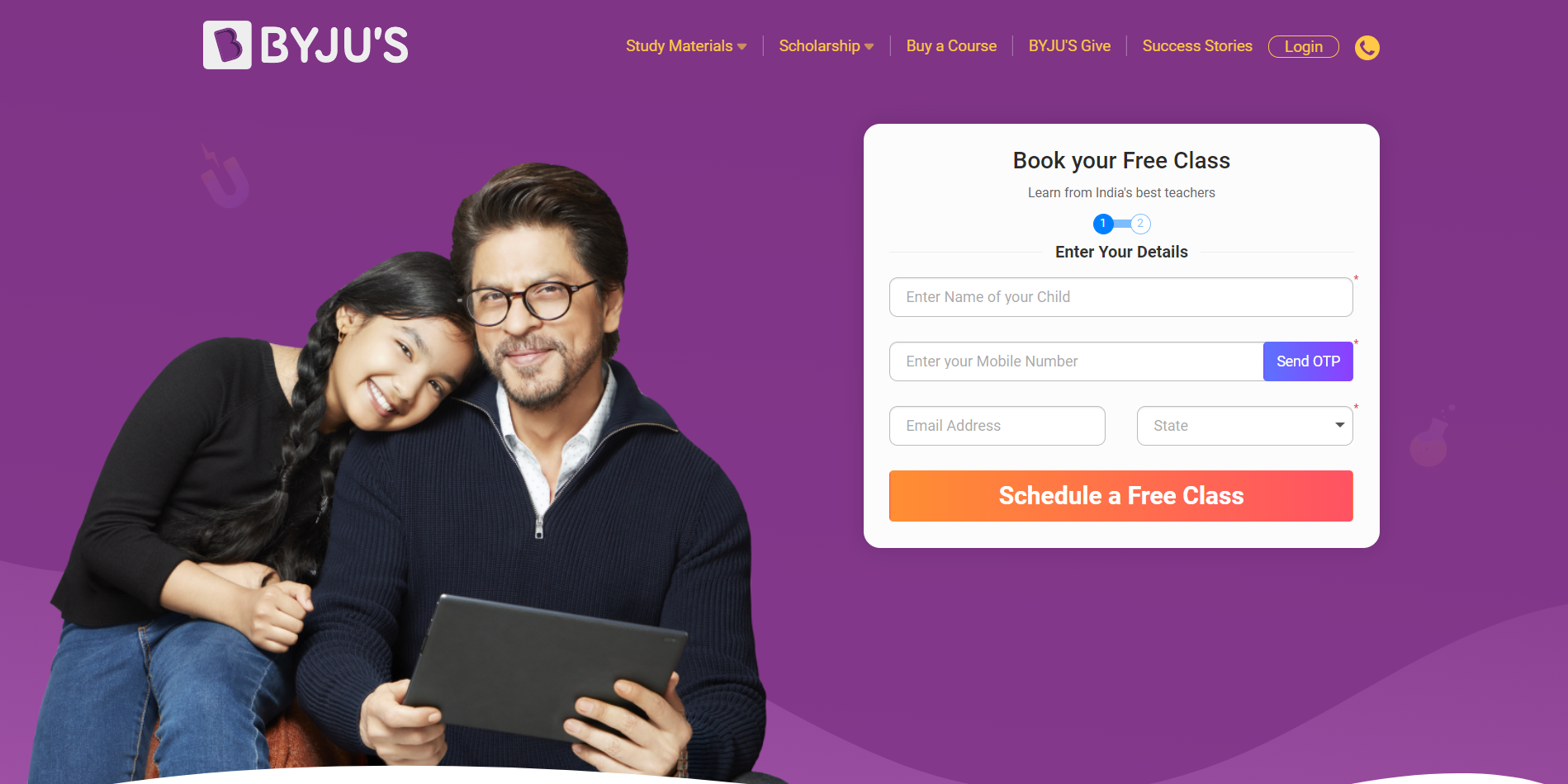 Byju's is the edtech company that has made the most headlines by bagging eye-popping funds. Raising $1 billion in 2020 and with a valuation of over $13 billion, BYJU is India's first edtech unicorn.
Formerly known as Think and Learn Pvt Ltd, Byju's was founded in 2011 offering video study materials for better conceptual understanding. Back then it mainly focused on mathematics and science for 8-12 grades and preparation of entrance exams. It was a huge success. And soon it ventured into more sophisticated edtech with digital learning programs and mobile apps which acquired 2 million users in just 3 months of the launch.
Currently, the edtech company covers the K-12 sector as well as the popular entrance exam preparation with over 50 million registered users and around 3.5 million paid ones. It also creates personalized online programs and provides personal tutoring based on student's learning capabilities. In 2019, it collaborated with Disney to craft special learning programs for children aged between 6-8 years.
Features
2. Brainly – Crowdsourced Education Q&A Platform
A student might know how baffling some lessons and concepts can be. A Google search can help but Brainly is offering something even better — a peer-to-peer learning platform to ask questions and provide answers.
Brainly is a Polish edtech company founded in 2009. It is a crowdsourced Q&A education platform that helps students and teachers get and give study answers. In many ways, it works like Yahoo Answers, but just Brainly is education-focused. Students can post their doubts and homework questions on various subjects and the peers can answer them.
It has incorporated game elements like points and badges to encourage students to post more answers and earn the rewards. Apart from the general users, there are various other categories of users that ensure a better experience on the platform. These include — moderators, Brainly teachers, administrators, and community leaders.
In 2020, Brainly raided $80 million with its total funding reaching the mark of $150 million. The year also brought 100 percent growth in worldwide users. As of November 2020, it reported 350 million monthly active users making it the world's most used educational platform.
Features
World's largest social learning community
Verified answers on extensively all subjects
Present across all platforms: Web App, iOS, Android
Totally free homework help
 3. Kahoot! – Simplifying Gamification in Learning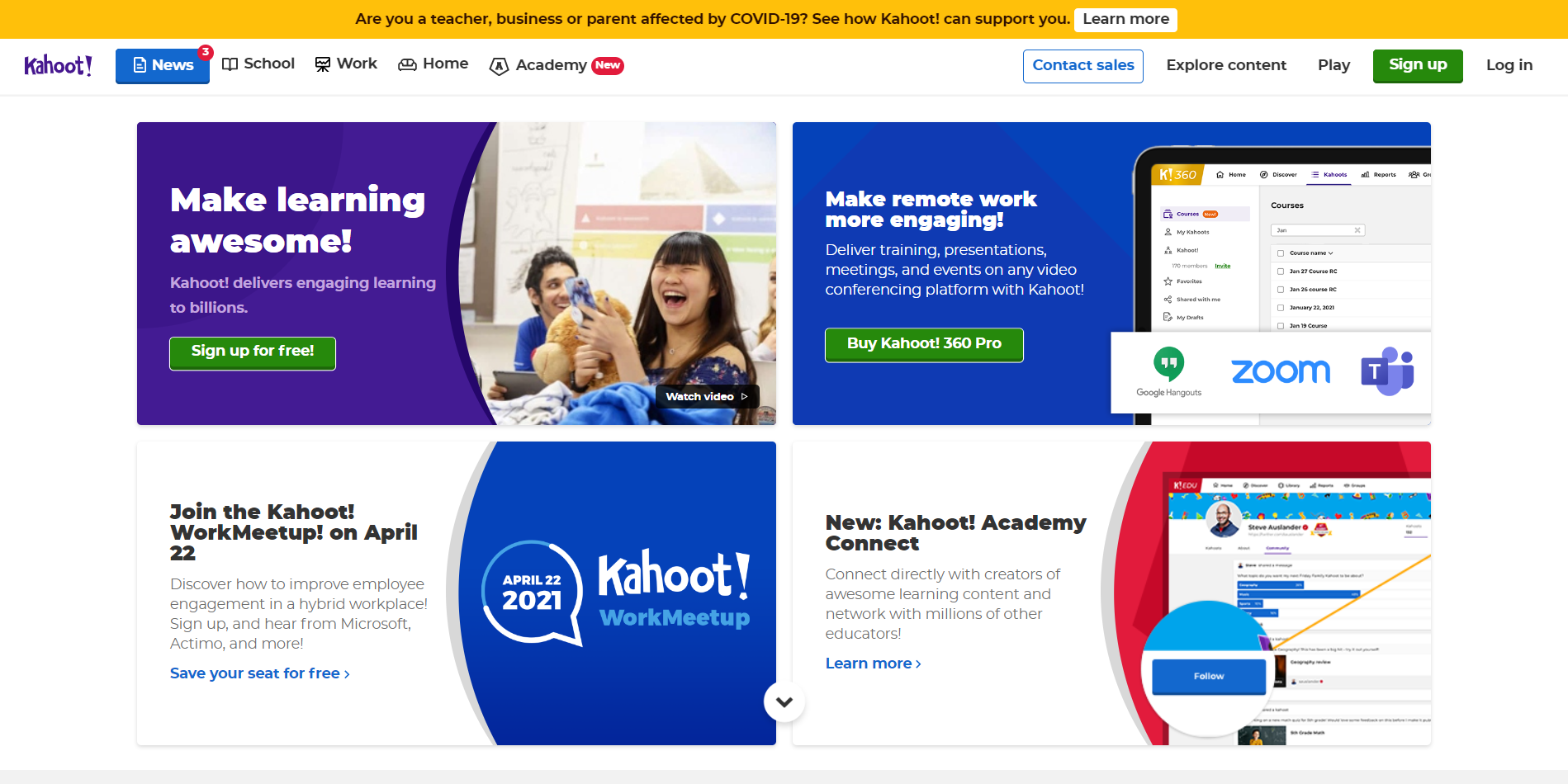 Kahoot! is a game-based edtech platform making learning, homework assignments, and review sessions fun.
Launched in 2013, this edtech company from Norway offers easy solutions for gamification in education in a matter of minutes. You can create and share playable learning games on any subject for anyone — be it for schools, corporate business, or sports and cultural events. And these sharable games can be played across all devices — mobile as well as web.
It has been widely used in classrooms transforming homework assignments into micro-quiz and trivia also know as 'Kahoots' that students play together to earn points. The platform comes with both free and paid plans specifically designed for different needs of the classroom, work, and social use.
As per its website, over 100 million games have been created, played over 5 billion times, and it has a global user base in 200+ countries. In 2020, it raised $28 million to keep up with the platform's demand. Kahoot is now valued at $1.4 billion.
Features
Easily create and share game-based lessons and assignments
Games playable across different devices, in-person and virtually
Fully customizable game rules
Game elements that improve engagement and pedagogy
4. Udemy – Online Course Marketplace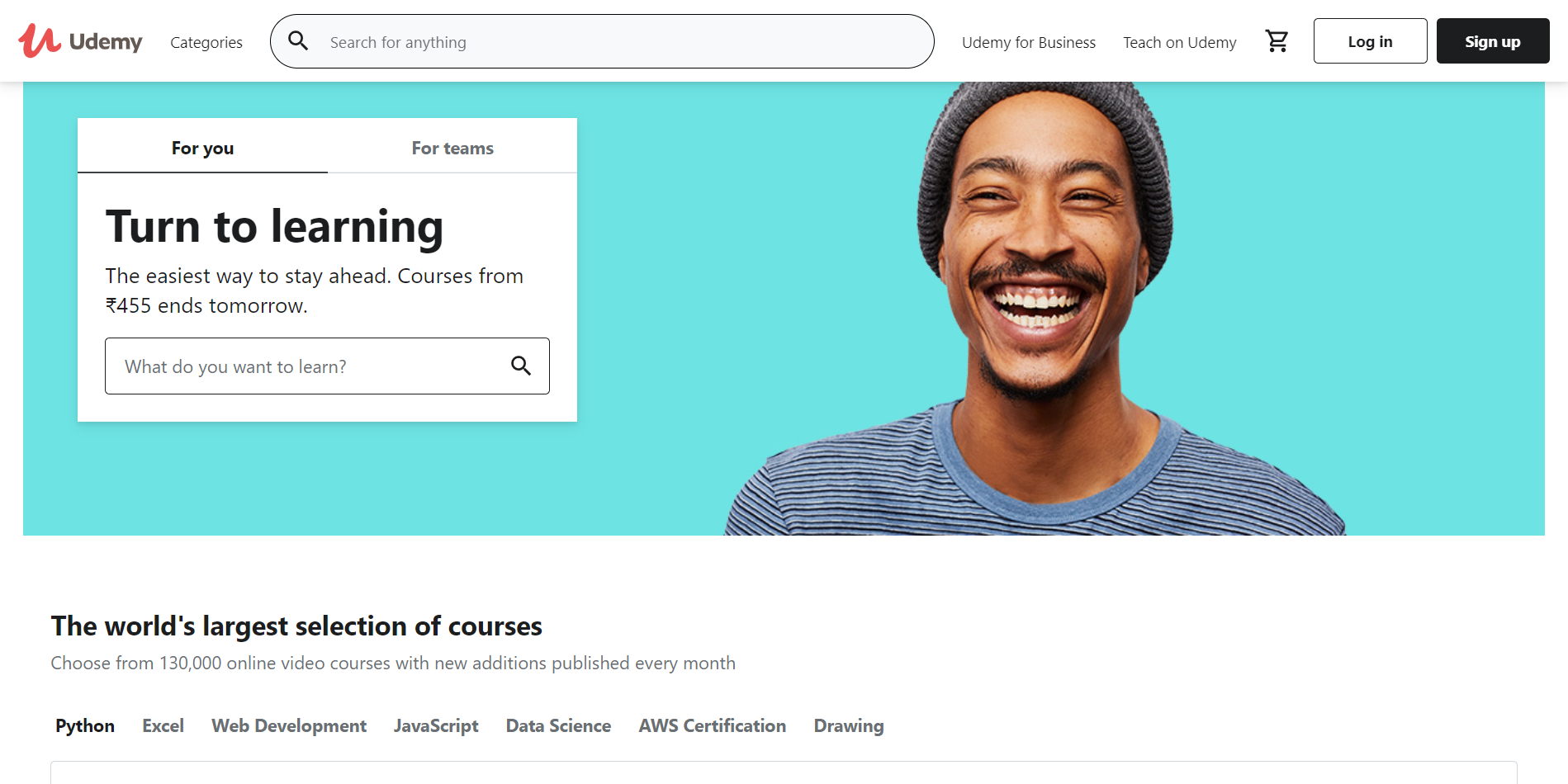 Udemy is a massively famous online learning platform that not only provides courses to the learners but also gives instructors a platform and tools to sell their courses. This way it works as a course marketplace where learners buy and instructors sell courses.
The platform was founded in early 2010 based on the idea of the live virtual classroom. The cost of development was bootstrapped by the founders as their concept failed to impress the investors. To be exact, as per the co-founder Gagan Biyani, it was rejected 30 times. But within a few months of the launch, it proved to be a great success with over 1,000 registered instructors and 10,000 learners.
Today, Udemy is a household name providing over 155,000 courses by 70,000 registered instructors to more than 40 million learners. And while the platform caters to a wide variety of courses, the majority of courses are focused on developing job-related skills. In 2020, it raised $100 million in funding, making it one of the high valuing edtech companies with a valuation of $3.25 billion.
Features
Online course marketplace
Huge variety of courses on almost every subject and skill
In-course assessments
Web and mobile combability
Interactive and high-quality content
Great tools for instructors for building courses
5. Khan Academy – Free Education For Everyone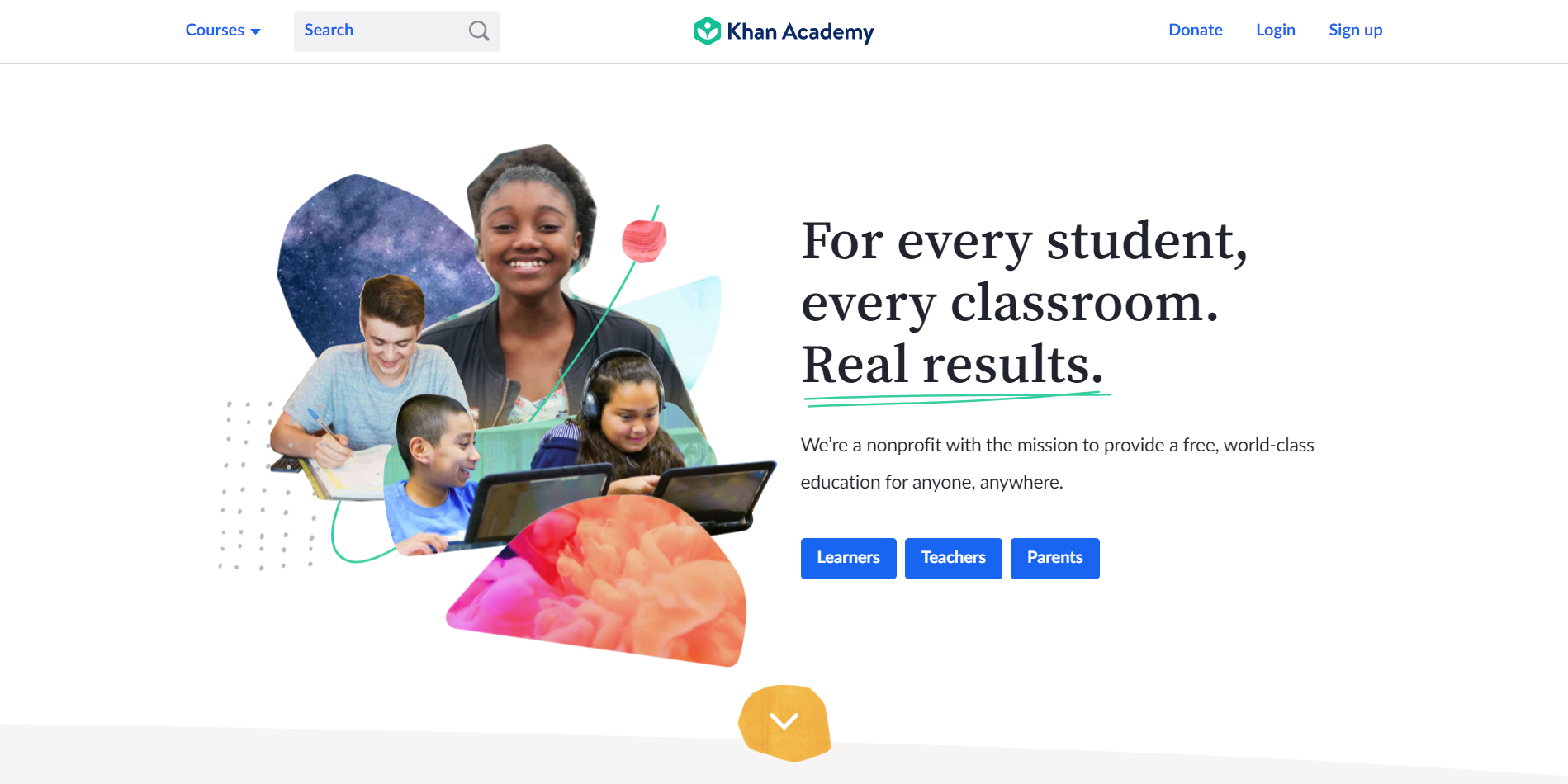 Khan Academy is a nonprofit organization with a mission to provide free education to anyone, anywhere. They believe everyone deserves a chance to learn and they are making it possible by providing free learning resources for all ages. This is what you call democratizing education.
Founded in 2008, Khan Academy provides learning resources on a myriad of subjects ranging from math, science, arts & humanities to popular test preparation. The free resources include thousands of videos, articles, interactive exercises categorized based on grades K-12 and different subjects.
One of the great things about the platform is that it focuses on mastering the concepts rather than scores. It has a mastery-based learning system that helps students learn and master the concepts at their own pace before moving to the next one. The platform also focuses on providing a rich learning experience and engagement with game elements like points and badges for the learning achievements on the platform.
Unlike other edtech companies on the list, Khan Academy is a nonprofit organization which means it relies on donations from individuals, foundations, and corporations. And it has received massive support from individuals and corporates all over the world including Bill and Melinda Gates Foundation, Google, Comcast, General Motors, and more.
Features
Personalized and mastery-based learning
Quality instructional videos
Practice exercises
Covers varied subjects of grades K-12 and entrance test prep
Resources available in more than 36 languages
Entirely free platform
6. Coursera – Courses from World-Class Universities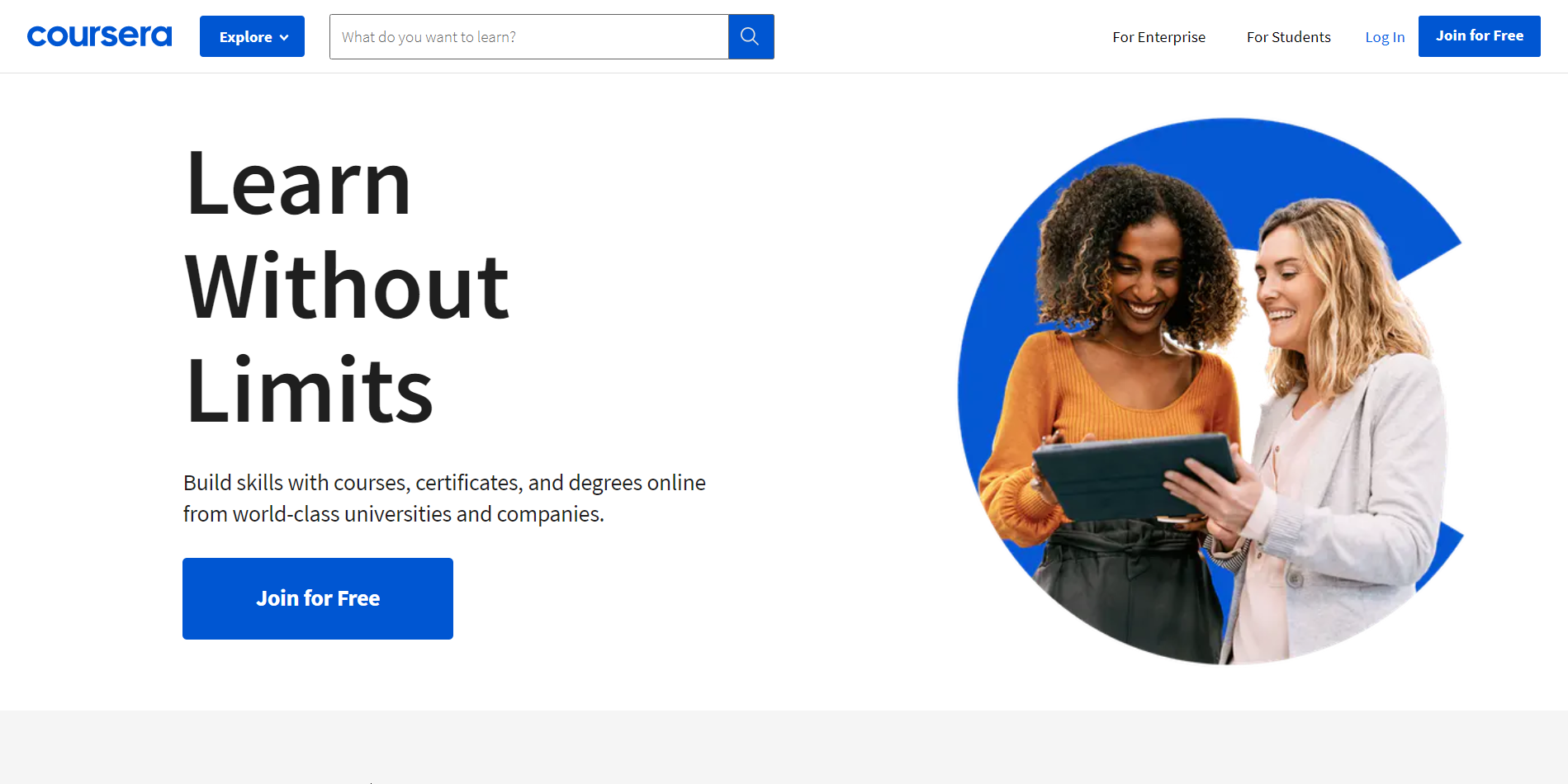 Picture this: Learners accessing world-class courses from 200+ top institutions like Princeton, Stanford, or Yale for free. They can even earn the desired credentials at an affordable price, from anywhere in the world. This edtech company is exactly doing this.
Founded in 2012 by two Stanford University professors, Coursera is one of the largest online learning platforms with numerous courses. Partnered with over 200 colleges, universities, and companies, Coursera offers flexible and job-relevant online degrees and certificate programs to individuals as well as organizations.
Although Coursera was started as a massive open online course (MOOC) without a business plan, over the several years it has managed to monetize the platform. It offers a range of pricing options for different courses with a free-to-audit option.
In its impact report 2020, Coursera revealed that it has over 77 million learners including 100+ fortune 500 companies and 6,000 campuses, companies, and government agencies learning on Coursera. And in the same year, it was reported to raise $130 million in funding and reach a valuation of $2.5 billion. In March 2021, it went public and raised nearly $520 million. The company's last market valuation was reported over $5 billion.
Features
Video lessons from top education institutions
Interactive and high-quality Content
In-course assessments
Course recommendation engine
Skill Assessment
Reporting and Analytics for enterprise learning
Web and mobile combability
7. Duolingo – Most Popular Language-Learning Platform

Duolingo is the world's most popular language-learning platform offering 106 courses to over 300 million registered users. While there are many other similar platforms (in fact, older than Duolingo), what makes it popular is its freemium business model.
The founders believed that free education can change the world and so it offers a free plan along with a premium one. This freemium business model has aided to acquire this massive user base.
The entire platform is gamified where the users learn, complete tasks, progress to new levels, and earn points. The platform also has public leader boards and options to compete against friends to check each other's skills. The effective use of game mechanics and dynamics as well as the quality courses makes language learning a delightful experience.
In 2020, Duolingo raised $35 million in funding, and its current valuation of $2.4 billion.
Key Features
Gamified language-learning platform
Personalized learning provides lessons based on your learning style
106 courses in 36 different languages
Available on the web as well as mobile
8. Unacademy – Largest Live Learning Platform
Started as an educational YouTube channel in 2010, Unacademy is one of the leading edtech companies. It is also among the largest live learning platforms providing live classes for grades 6-12, but it mainly focuses on entrance test preparation. In fact, it has solidified its presence in the market acquiring various leading test prep companies including Kreatryx, PrepLadder, and Codechef. The platform has more than 50 million active users and provides 2000+ daily live classes.
The great thing about Unacademy's live classes is its fine virtual class environment with real-time student-tutor chats, live queries and doubt solving, and class interaction with live answer polls. Students can also access the recorded sessions along with lecture notes, mock and practice tests on the platform.
The company last raised $80 million in 2020 and has a valuation of $2 billion.
Features
One of the largest live learning platform
Focused on competitive exams and grades 6-12
Provides daily live classes
Available across the web and mobile devices
9.  Course Hero – Crowdsourced Learning Platform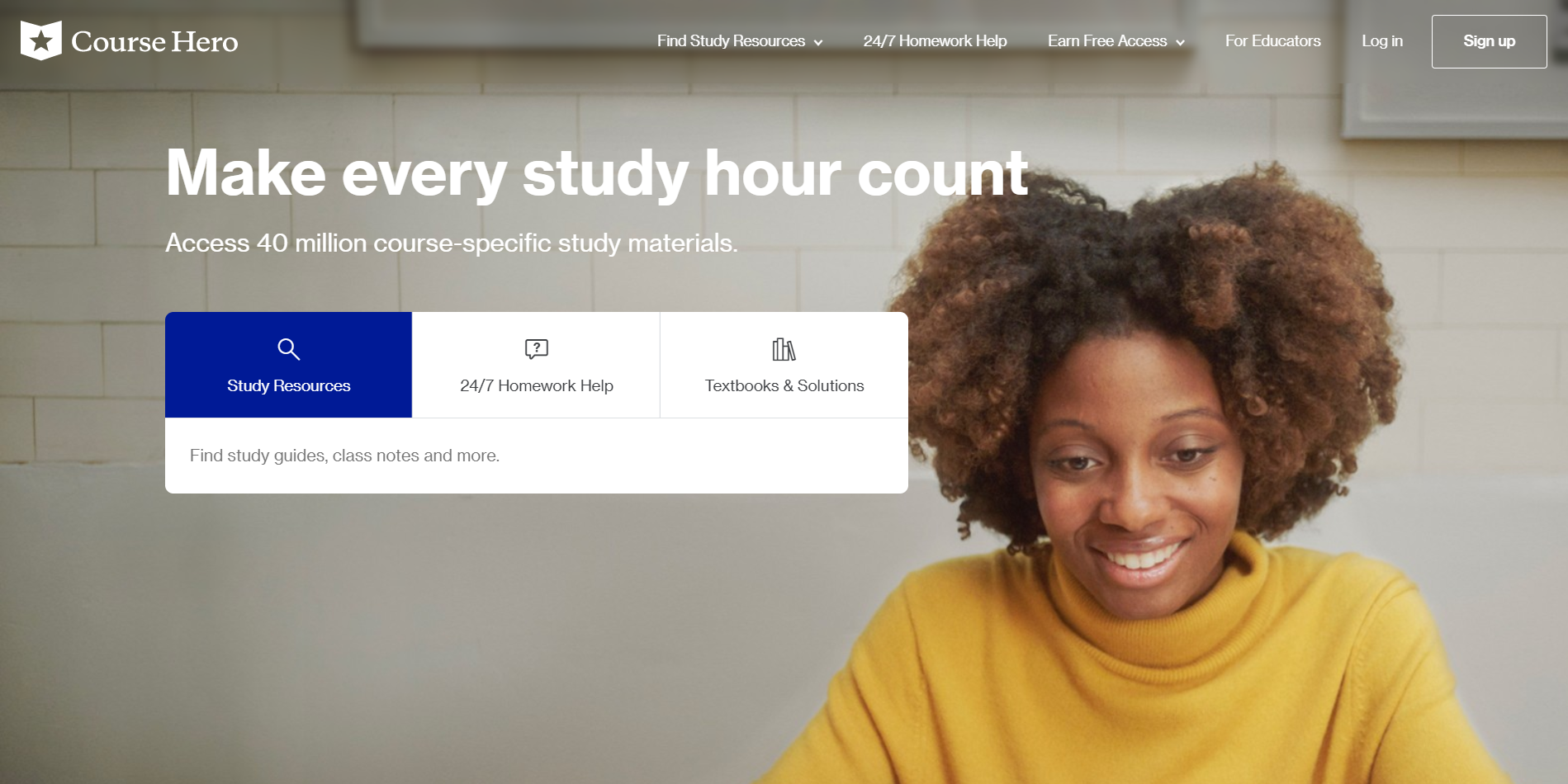 Course Hero is a crowdsourced learning platform where students can access course or subject-specific study materials contributed by students and educators. The platform provides over 20 million study materials such as study guides, class notes, essays, reports, practice tests, infographics, videos, and other resources that make it an ideal place for study help.
The platform is easy to use. Students can simply create an account and add courses and classes that they need help with. And all the available study materials for that course will be accessible to the student from the dashboard. The platform provides a  basic free as well as a couple of premium options. Users can subscribe to a premium plan to access the materials or upload their own study resources to access the platform for free.
In August 2020, it raised $80 million bringing its valuation to $1.1 billion.
Features
Over 20 million course-specific study material
A community of 24 million students and educators
Tutoring and guidance for assignments
Option of a free tier
10. Chegg – Edtech Platform For All Education Needs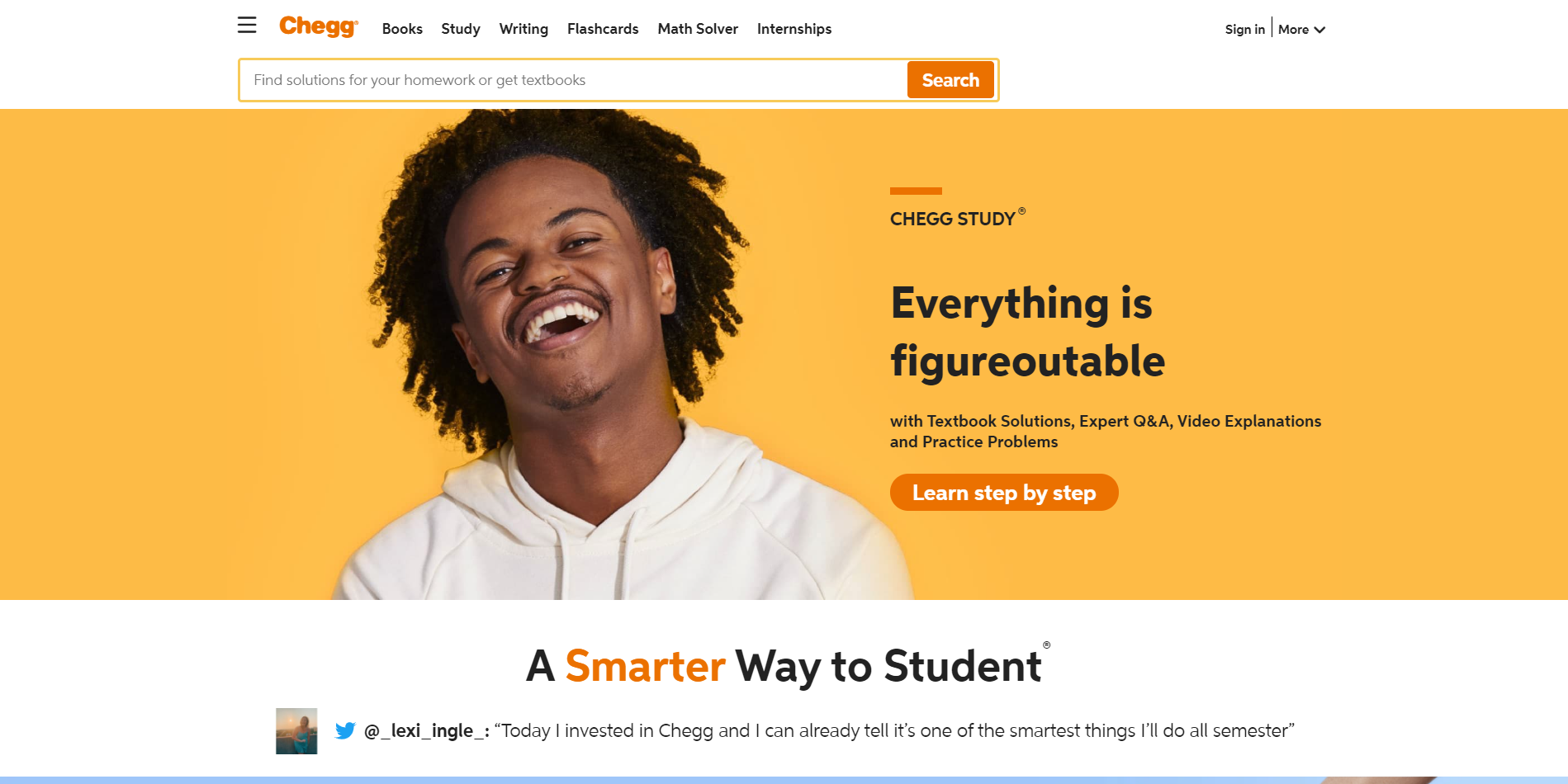 Chegg is is a learning platform helping students achieve best in school and academics. The platform is focused on providing a better return on investment by helping students learn at a lower cost. And they do it by providing all-around services such as rental textbooks, low-priced ebooks, free flashcards for preparation, tools and expert help for writing papers, step-by-step textbook solutions and expert Q&A help, and even internship assistance. And for each, they provide a dedicated app — Chegg Books, Chegg Prep, Chegg Writing, Chegg Study, and Chegg Internships.
Apart from these Chegg provides several other products and services like Math Solver, Study 101, Solutions Manual, Chegg Money, Chegg Coupons, and more. All these services make it a complete platform for all education needs.
Features
Cost-effective and rental books
Feature-rich tools for learning and preparation
Expert tutor help
An all-round solution for all study needs
Wrapping Up
So these are the edtech companies that are radically redefining traditional education. Hope this list gives you an idea of the top players in the edtech sector and inspiration for your own edtech product. We at Techuz specialize in developing end-to-end edtech platforms with sophisticated features. Feel free to contact us for a free consultation or request our edtech portfolio.
Looking to develop an edtech or e-learning platform? Just drop us a line.