In recent years, mobile apps have changed our world the way it used to be. For example, Uber. You are sitting in the office, the clock says it's 7 o'clock in the evening and you are done for the day. You just take out the smartphone from your pocket, open the app and book a cab. In just a few minutes you have a cab waiting downstairs to drop you home. It's that simple! You didn't even stand up from your chair. Not only that, but it has also made it possible for the people to work flexibly as a cab driver and get paid. It has indeed evolved the way transportation used to be.
Similarly, healthcare is one of the industries that has been revamped by mobile app development. Initially, healthcare mobile apps were used for interaction between doctors and patients, record management, billing, etc. But in 2018, revolutionary technologies such as artificial intelligence, AR/VR and blockchain are taking the healthcare app development scene to a whole new level.
So, what are the healthcare app development trends in 2018 and how these trends are transforming the industry?
Here you go.
#1. Artificial Intelligence is Making the Process Smarter
When Google's CEO Sundar Pichai unveiled Google Duplex at Google I/O 2018, jaws were dropped and eyes were raised. Now, the personal assistant in your pocket can book an appointment at the saloon or even reserve a table at the restaurant. And the fascinating part is that the bot can understand and stimulate utterly natural conversation just like a human. Well, this is just a personal assistant and application of AI in healthcare has unfathomable potential and possibilities that can make our life easier.
Since Google's machine learning API TensorFlow and Nervana System's deep learning have been open sourced in 2015, AI in HealthCare has been widely used compared to other sectors, says a report by CB Insights. These advance machine learning algorithms and AI used in healthcare apps are helping to diagnose diseases, monitor and analyze health, manage records, predict risks and much more. This has ultimately made the process smarter, reliable and easier for the doctors as well as the patients.
#2. Privacy and Security with Blockchain
In 2018, Blockchain became a household name. It made several headlines, made its way in the LinkedIn bios, everyone is talking about it and is considered to be a new paradigm that will change the world.
We have already witnessed its success in finance and technology, but its use-case is not just confined to it. We can observe various industries adopting this technology and healthcare is one of it. The fact that your data in blockchain is immutable and tamperproof makes it ideal for storing and securing the medical data.
Blockchain technology is a distributed ledger, not a centralized one. So, any changes occurring in the data is to be authenticated by each party in the network. This means the data altered by one has to be validated by all the parties. This makes it tamperproof. Not only that, but it also allows maintaining confidentiality by controlling access to the parts of the distributed data. It means you can control who can see what part of the data. Thus, it protects the privacy of the patient's data.
#3. Wearable Devices for Better Tracking and Analysis
The use of wearable devices has upsurged in last few years. A report by Statista has forecasted the revenue from the sale of wearable device amounted around 26.43 billion US dollars in 2018 which is expected to grow by $73.27 billion US dollars in 2022. This shows people are using these devices more than ever. These wearable devices are equipped with smart sensors that help the users to track their activities, exercise, blood pressure, heartbeat, etc. It not only helps the users to stay healthy but even the doctors can collect and analyse the data of the body functions for better treatment.
#4. Telemedicine App for Remote Expertise
Though the concept of Telemedicine is not new, the advancements in communication technology have indeed made it easier. Now, patients can get medical expertise 24/7, remotely from anywhere via telemedicine app installed on the phone. This has made it convenient for the patients to get medical prescription and check-ups without seeing the doctor in person. According to a report by Statista number of patients using telehealth is constantly increasing. The total number of telehealth patients worldwide in 2013 was 0.35 million which is forecasted to grow by 7 million in 2018. While another report says that the telemedicine market is expected to grow over 40 million dollars by 2021. The number depicts the popularity of telemedicine and it will continue to offer the treatment for the chronic condition of the patient regardless of time and location.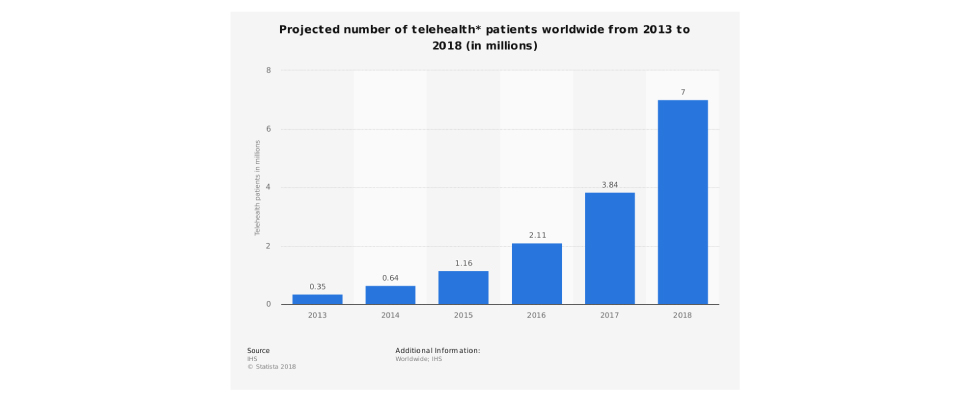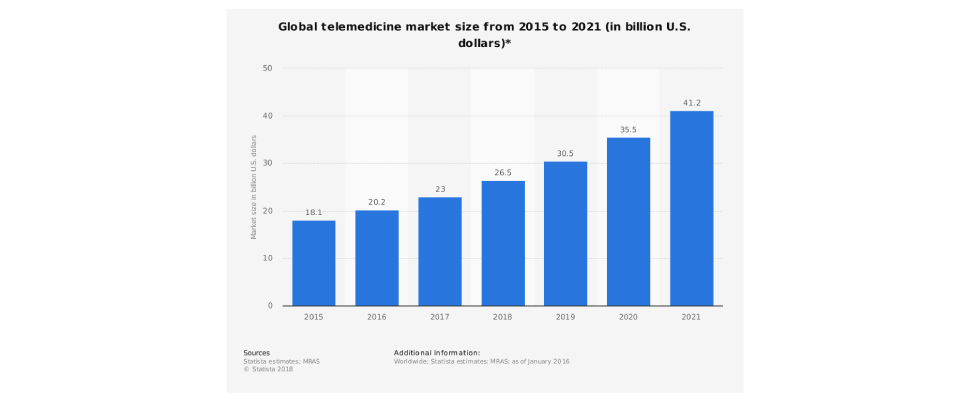 (Source – Statista)
#5. Enhanced  Learning and Treatment with AR/VR
AR/VR is the new trend in gaming, web and mobile app development. These technologies are considered to elevate the user experience to a whole new level. But the blending the digital content into human's physical life is not just confined to provide a pleasurable user experience. Leveraging AR/VR in the healthcare industry can provide some extraordinary benefits to the healthcare providers as well as the patients. For instance, training and learning experience for doctors can be enhanced with AR/VR. A huge portion of our brain is dedicated to spatial memories that make the information easier to understand. Thus, AR/VR can help doctors and trainees to come out of the textbooks and understand the complex human anatomy in an engaging and interactive way.
But that's not all.
And AR/VR in healthcare can even improve treatment quality. Healthcare industry is constantly working to reduce the pain and surgical incisions to the patient's body during the surgery and improve the quality of treatment. Currently, surgeries are performed by using endoscopic cameras and the visuals are displayed on a monitor. So, the surgeons have to multitask by keeping an eye on the screen while performing the surgery. But the process can be made more focused on AR/VR glasses, keeping the visuals in front of the surgeons, reducing any mistakes and providing better treatment.
(Source – ScienceNature Facebook Page)
Wrap up
There is no doubt that the new technology in healthcare mobile apps will change the industry. Knowing these trends can help you to incorporate the latest technology into your app to serve better. However, just knowing these trend is not enough as you must be well versed and have in-depth knowledge of these technologies. As a top mobile app development company in India Techuz has been serving its clients with highly sophisticated mobile solutions. So if you are looking to develop a feature-rich and high-end healthcare mobile app, do not hesitate to contact us. Innovation in Open source technology helped the develope advanced software. Here, you can review Top Custom Software Development Company which uses the open-source technology for development.