While cluelessly changing the TV channels at midnight, you might have halted at a commercial that is selling a fitness equipment that's gonna make your belly sweat and magically chisel those abs. If you are like many others, your conscious might have provoked you to get a fit and healthy body. But since you are like many others, you are smart enough to understand that this equipment is good for nothing and you need a pragmatic solution.
As always, technology has been a boon that makes our life easier, fitness is no exception. Fitness apps and wearables are making it easy to adopt a healthy lifestyle and get fit.
Every day, the usage of fitness apps is skyrocketing. If you don't believe me check these fascinating stats.
According to research by Technavio, the global market for fitness apps will grow at a profound CAGR of around 31% until the end of 2020.
A research by Statista shows:
The U.S is the leading country when it comes to revenue with $2.1 billion in 2017.
Fitness App is one of the fastest growing segments in Europe with revenues increasing at the rate of 14.7% per anum. 
In the U.S, 39.5 million users paid for Fitness Apps or Wearables in 2017.
Do you see how huge is the Fitness app industry? The above stats clearly show its popularity and it is all money-money business.
Stay with me now, because we are going to dive into its details.
Popularity and Growth of Fitness Apps
Over the past few years, millennials are getting conscious about fitness and changing their lifestyle for better health. Everyone wants to be fit, healthy, a physique that one can flaunt and a body free from diseases. All these desires have spurred the use of fitness app.
These apps are getting popular day by day because they are making it easy for the user to exercise, track, analysis and eat right.
Stats according to Statista shows, fitness wristwear equipped with sensors, activity trackers that measure and analyze the physical activity and body functions, smart Clothes or Eyewear that measure body functions, fitness and nutrition apps for detecting /tracking/ analyzing and sharing vitality and fitness achievements, desktop versions of fitness applications that additionally provide an app are expected to see tremendous growth in coming years.
The Fitness segment has yield revenue of US $8.3 billion in 2017 out of which wearables hold a share of about 73% of the total Fitness market with a revenue of US $6.1 billion.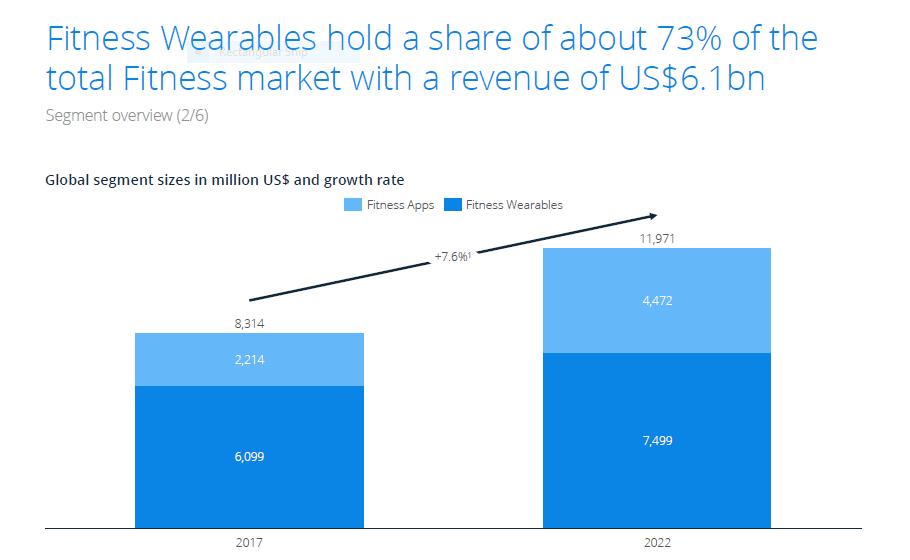 The technology that is the talk of the town is It is but natural to grab the eyeballs of the investors. The recent trends show that many investors are keen to fund fitness mobile app development projects.
Investors are Lured to Invest in Fitness Apps
The exercise and activity tracking company Whoop has raised $25 million of funding for their venture. The investors included NFL Players Association, Durant Company, Twitter executive Jack Dorsey, former NBA commissioner David Stern and MIT Media Lab Founder Nicholas Negroponte.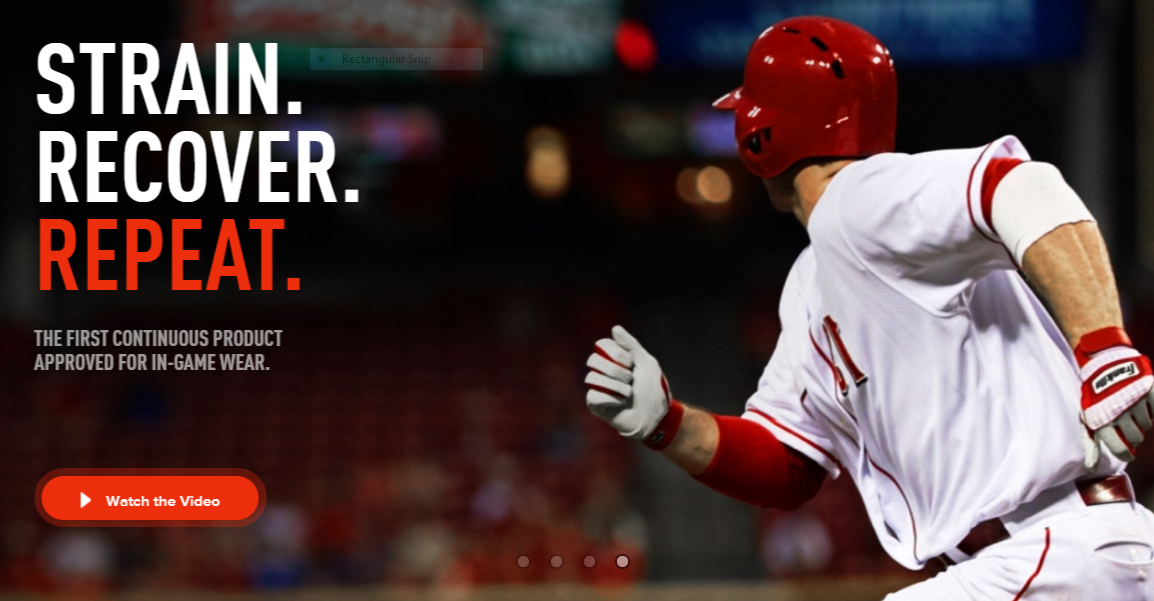 (Source-http://whoop.com/)
Recently Samsung Next has invested an undisclosed amount in HealthifyMe, an India based fitness app that helps users track their calories intake and provides personalized coaching.
Even previously many fitness app startups were successful to lure investors for funds. Some of them:
GrowFit, a venture backed by GrowthStory has raised $4.5 million in 2017.
Cure.fit by Flipkart executive Ankit Nagori and Myntra cofounder Mukesh Bansal raised $3 million in Series A round from UCRNT Fund. It had already raised $15 million from other investors in July 2016.
Fitsoa, an online personal trainer and nutrition app raised $200,000.
What's in for You?
If you are looking for a startup that is highly rewarding, gets funded and helps people to make their life better, a fitness app can be a perfect match for you. With the exploding usage of these apps and investors interested to fund, a fitness app startup can be fruitful.
Types of fitness apps you can go for.
Now you know, fitness apps are gaining popularity and the investors are ready to pour their fund into it. But before you plan to make your own fitness app, you need to understand their types. These apps can be classified into three categories.
Workout apps
Food and Nutrition apps
Activity trackers
#1. Workout apps
As per the name suggest workout apps are focused on the workout. These apps provide detailed guidance and explanation of workout and exercise and how to perform them. The explanation can be in the form of 3D models, Gif or videos. These apps also provide personalized training plans according to the goals of the users. Some of the apps can be even synced with the wearable gadgets that help to check and analyze the collected data.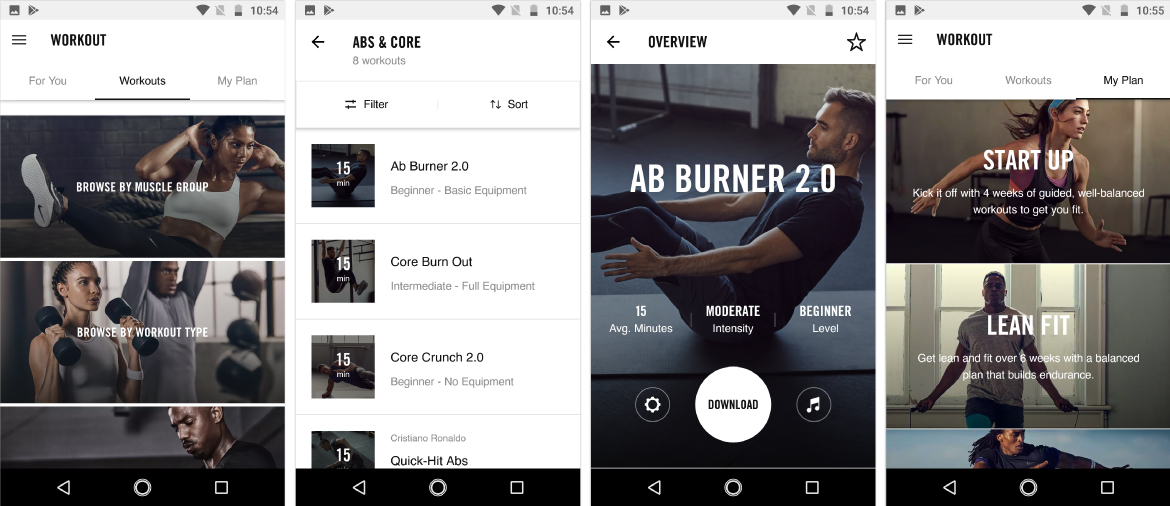 (Nike Training Club – Workouts & Fitness Plans App)
#2. Food and Nutrition apps
Food and nutrition apps mainly help the users to track their calorie, water and caffeine intake and hence, help them to form a habit of eating healthy food. These type of apps provide the nutrition plan based on the user's goal, dividing the macro and micro nutrition that helps them to maintain their weight and body fat.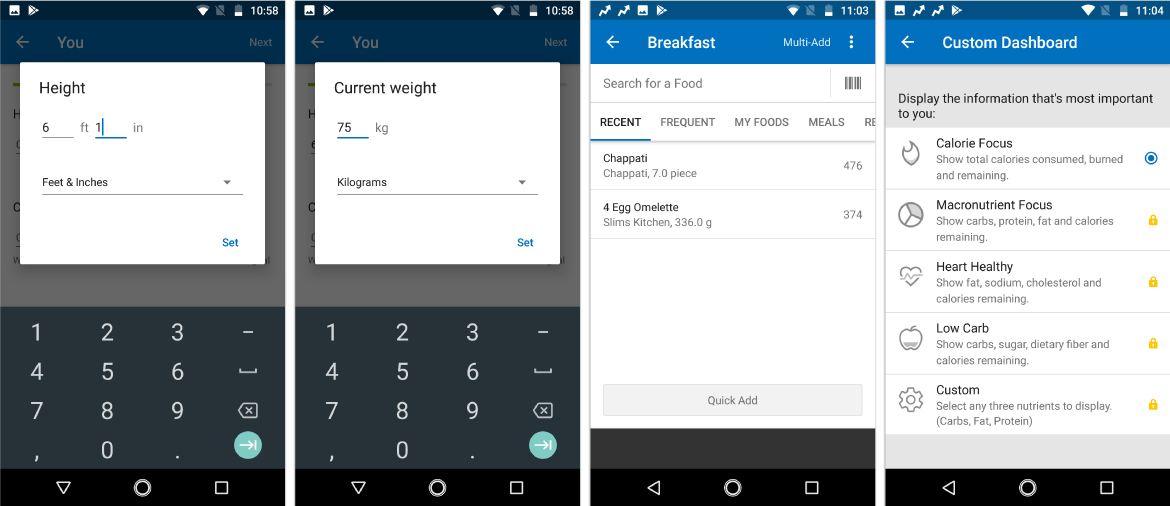 (MyFitnessPal.com: Calorie Counter & Diet Journal App)
#3. Activity trackers
Activity trackers are the apps that monitor physical activity. It uses the geolocation to calculate the distance user walks or runs. These apps can also keep track of the heartbeat, the quantity of the sleep, calories burned, etc and are synced with the wearables.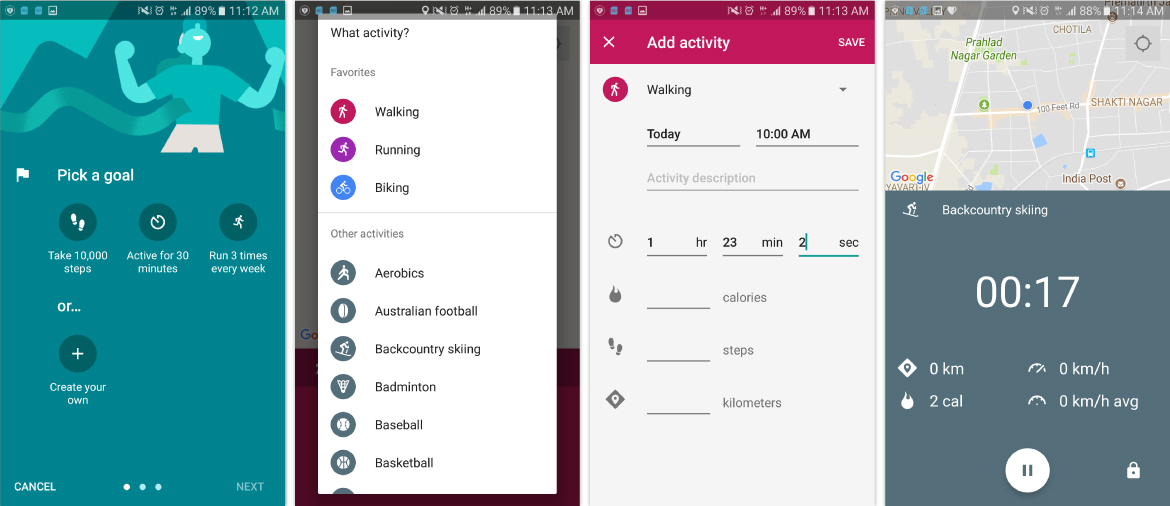 (Google Fit – Fitness Tracking app)
Wrap Up
With people focusing on the health, well-being and healthier life, the fitness app industry have upsurged and this will grow in the coming years. This could be the right time to penetrate the market to reap the rewards. As a top mobile app development company, Techuz can help you to develop the fitness app you need. We are proficient in using latest technologies and tools for Android and iOS apps as well as wearables using WatchOS and Android gear. If you need any assistance or have any inquiries we are right here to assist you. Feel free to contact us anytime!