"React a newly growing Giant!"
While wondering for picking up among the hundreds of the Javascript for app development, React stood first on my list. It has stunned me with its swift progress and also the commendable yet irresistible glancing results.
Practically each Front-end developer makes an attempt to do something that can create value with the wedges. Well, React's fast-paced performance and easy learning played a crucial role in highlighting and well-liked javascript among other several of available Javascript. Componentization soothes the React with the clean code and more efficient to visualize and modularized. Due to this race of moving towards the ReactJS its very difficult to Hire Most Trusted Reactjs App Developers among the large number of developers out there.
Having larger data and need to update it? No worries. ReactJS is here to serve you with its some tremendous features and justified the escalation among other Javascript available (AngularJS, Vue.js, Backbone, Ember etc). Some stunning features expect its typical attributes has enabled React to win the race rapidly and steadily.
1. Component Engagement
The ease of creating own components makes it more attractive as it encompasses the flexibility and recreation. Once created components can again be recreated even after it moved to the public users. The reusability of the created component makes it more simplified and less messy in terms of patterns and coding as well.
2. Spotlight the SEO
In today's era, you must be aware of that javascript are not Search engine friendly. But here React favors the SEO and the factor is the virtual DOM. While developers can run React on the server and virtual DOM renders and returns to the browser as normal as the regular web page.
3. Chrome Extension a Painless Effort
Supports extremely great and easy for debugging your app. An amazing feature provided by the React which is worth helpful to install Chrome Extension. Once completing installation you can browse the virtual DOM as similarly as you refer the regular DOM and its sub-elements that make it much easier to debug the application. Sounds Interesting, isn't it?
As per the Google Trends, React has carried out the curve towering within the five years. Below in the first graph, you can see the popularity raised within the last two years which is acceptable due to the tremendous support of the React with the application development which we have already discussed. Now coming to the second graph as you can see the another Javascript liked and most preferred by the developers i.e AngularJS compared with the React. Unquestionably you can look at the sudden fall after the high raised by the Angular over the React. Comparably React made itself privileged.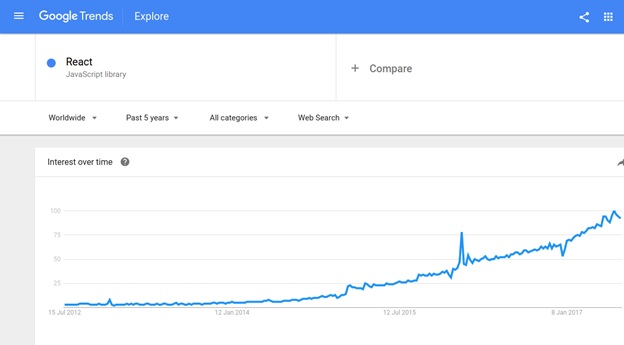 (ReactJS evolution)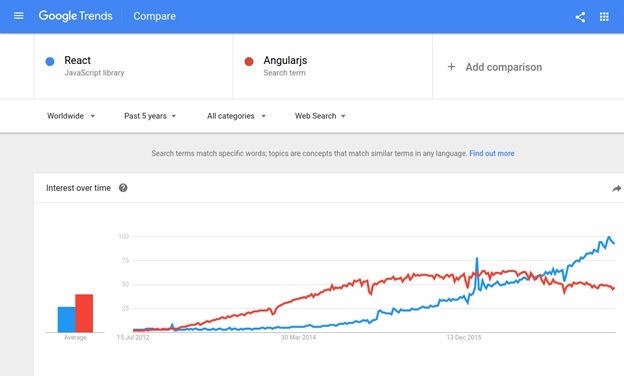 (Comparison of ReactJS vs AngularJS)
Lastly, we can not ignore the fact that React was created and highly supported by Facebook that made it more awesome and decent. By summarizing React made it stand alone among the troop by its some amazing features and functions. Less complicated, highly loaded, easy to mingle with and the right fit for the complex nevertheless creative software solution.
We have discussed and summarized the reasons but if you find some addition feel free to contact at [email protected] It would be appreciated to have a glance of some addition. Techuz Infoweb has sowed the seeds of becoming top-notch React js app Development Company and we have started to kick the market with the highly accepted React and React Native framework to develop applications that applaud and acquired by a large number of users.