Chatbots are highly efficient and are proven to provide excellent customer service. They are quick, friendly, provide solutions to the queries and are available round the clock. That's the reason the number of online business integrating these chatbots is increasing more than ever. Even customers find it helpful as they get instant assistance for their queries. These chatbots are now highly advanced and can perform human-like tasks such as ordering a drink, pizza or even booking an airline ticket. So, are the chatbots a new paradigm in sales and customer service? Let's understand it in this article.
But, first things first.
What is a Chatbot?
A chatbot is a software programmed to stimulate human conversation and respond according to the user's questions and commands. It can be in the auditory form like most of the virtual assistants Google Assistant, Siri, Amazon Alexa, etc. or in the text form like most of the bots popping up on your desktop or as on the Facebook, Skype, Slack, etc.
Though the concept of chatbots seems to be of the 21st century, its roots go back to 1950s when Alan Turing published an article "Computing Machinery and Intelligence". Since then, the concept of chatbots has come a long way and with the integration of artificial intelligence, these chatbots are now able to assist users with complex issues.
Usually, chatbots interpreted the words and phrases of the user's command and respond with a programmed message. While some of the advanced chatbots use machine learning that can understand the context of the command as well as use the past information to provide more authentic and natural responses. Google Duplex, the upcoming personal assistance unveiled at Google I/O is the best example of machine learning in chatbots.
Benefits of Chatbots in Sales and Customer Service
#1. Simplifying the Ordering Process
Chatbots are now capable of assisting the customers with their order process. These chatbots can even provide recommendations just like a live person. Some of the best examples of chatbots employed for ordering are Starbucks, Pizza-hut, Dominos, and Lyft.
(Starbucks Barista- BlogNT)
#2. Instant Answers
One of the best features of chatbots is that users can get instant answers anytime. According to a survey, the most common (37 percent) use case of chatbots that people voted for was to get a quick answer in an emergency, followed by 35 percent that chose to resolve a complaint or problem. Chatbots are instantly at your customer's disposal whenever they need them. Unlike human live chats or phone tree where they have to wait until a customer service executive is available.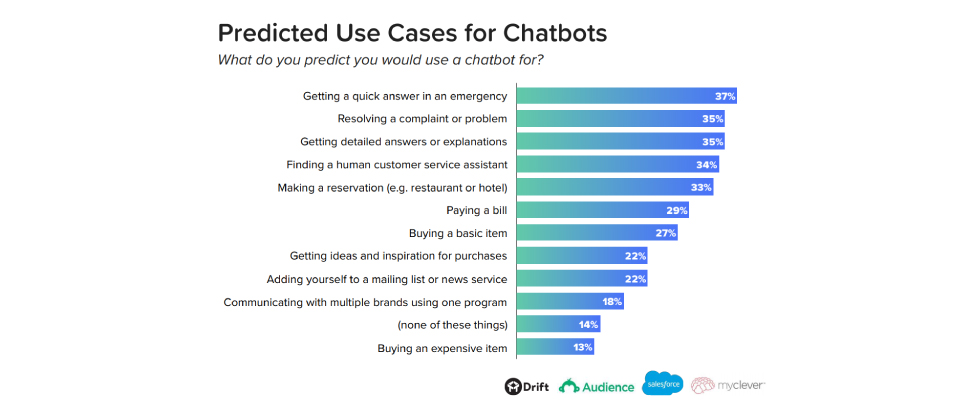 (Source – Drift)
#3. Messengers + Chatbots = Turbocharged Growth
Messenger apps are one of the most used apps. People spend most of their time chatting with their friends and families on messengers. In fact, these apps are even among the most downloaded in the app market. So, if you deploy your chatbots on these messengers, you can interact with the customers where they already are. For instance, Facebook Messenger has about 1.2 billion active users per month. And if you develop a chatbot for this app, it is a deadly combination that would help you to crush your sales and marketing goals and turbocharge your business growth.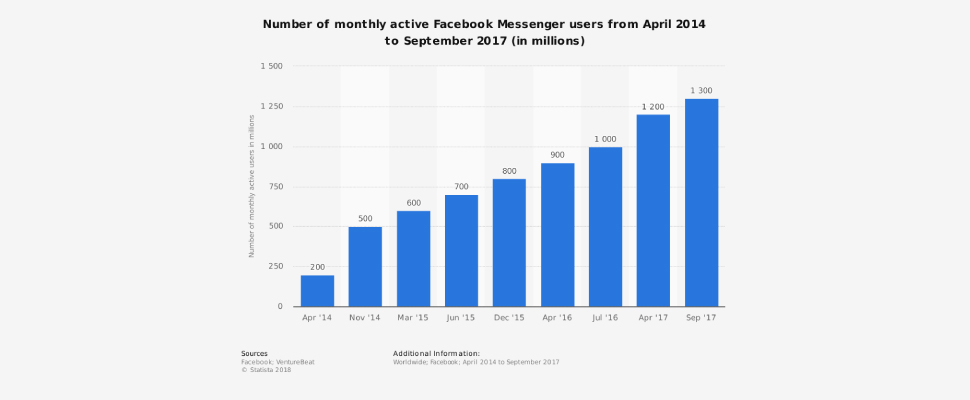 #4. Proactive Brand Image
One of the things that can make a huge difference for your brand is your proactive interaction with your customers. And chatbots help you to do that. Once visitors have arrived on your website, a chatbot would welcome them proactively. The visitors would address their query and easily get the answers. Not only that, by addressing the customer's queries at the initial stage and solving their problem it is more likely that you can easily navigate the visitors through the sales funnel.
#5. Analyze Customer Feedback and Chat information
For any business that wants to check the performance of its product, service or website, customer's feedback and chat information can be a great tool. Your chatbots can provide you valuable information about the most common queries of the customers or on what page does the customers face issues, their behavior on different pages, the point when they need assistance, etc.  In fact, the advanced machine learning chatbots can help you to understand customer's behavior better than ever.
Often, customers resist spending their time on a survey. But in the case of chatbots, it can be made easier through questions within the conversation. Thus, chatbots not only makes the sales and customer service easy for you but also helps to form a more focused marketing strategy targeting your audience by gathering the customer's feedback and information through the chat.
Get Your Own Chatbot
Chatbots are the technology that any business would like to employ as it provides amazing benefits.  However, building a chatbot can be a herculean task and there is a list of things that you must consider such as selecting the platform, the flow of conversation, scripted or AI-powered chatbots, etc. Considering these things will help you to get the most out of your chatbot.
No doubt, chatbots are the future of sales and customer service. And with the advancing technology, we are able to develop smarter and more natural conversation stimulators to solve the customer's problems. Understanding these benefits, many big brands across different industries have already adopted the trend, and indeed it has proven to be helpful to both customers as well as the business. So, even if you are also looking to leverage the benefits of chatbots in your business, it's the right time and we'll be happy to help you with it. We are Techuz, top web and mobile app development company in India providing state of the art web and mobile solutions. Feel free to contact us for any inquiries.